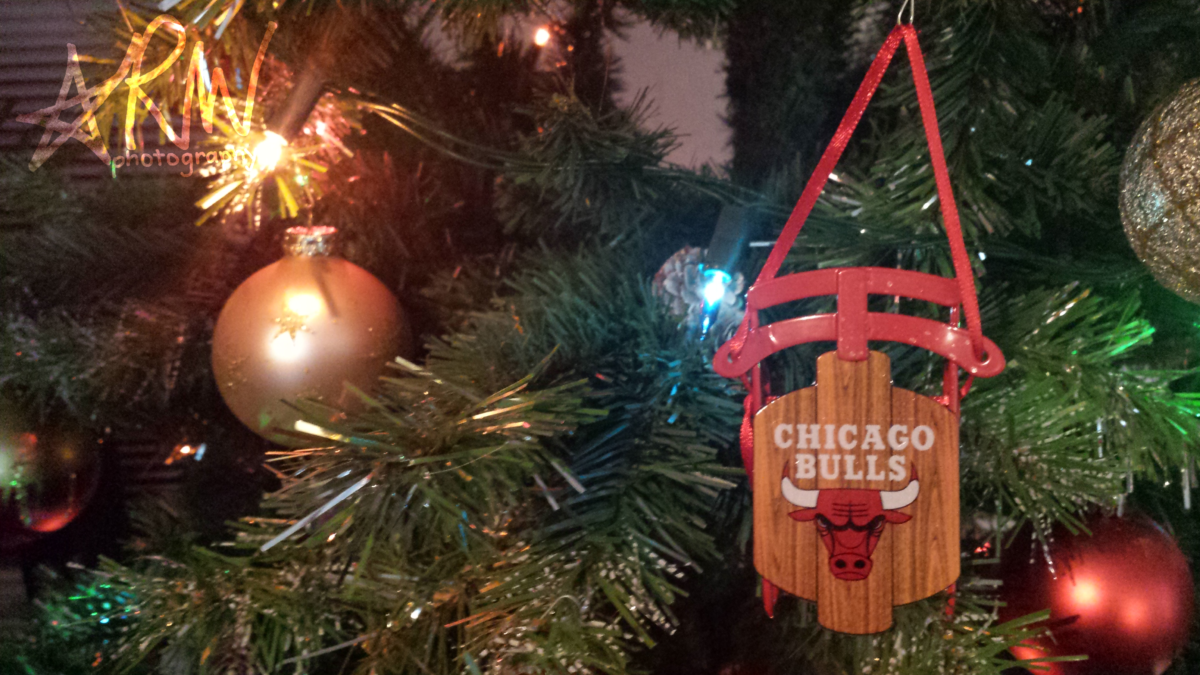 In the first part of this blog-post series, I rambled on about how great and gratifying Christmas is because I love giving people presents and being able to see their happiness as a result of it.
For that reason, I decided to compile a list of my favorite presents—Christmas or not—that I've given to others. This part, however, will only include presents I've given to others in past years and not this year just to prevent anyone from figuring out what he or she is getting prior to actual receiving it. But, once I've given out all of my presents for this Christmas, I'll definitely be writing about that.
Whether it was the fact it was the perfect gift for that particular individual or whether I just sincerely loved the person's reaction to receiving the gift, these are ones I'll never forget having had the opportunity to give.
Mr. Clark – Christmas 2011
This gift, a Chicago Bulls travel mug, was actually one I thought of giving a year earlier, when Mr. Clark was my English teacher sophomore year, but, for some reason, I just never went through with it then.
Looking back, I'd say it was better that I hadn't given him a gift then, because I don't think it would have meant as much to give it at that time. I was really shy when I in his class, and I hardly spoke to him. When I did, I'd have to build up a lot of courage to do so, and it'd just be an occasional question about my paper or something like that. But most of what I'd say had to do with basketball: questions about the last Bulls game, Kirk Hinrich, and general NBA happenings.
With that being said, I just feel like it wouldn't have meant as much, because I feel like it would have been more difficult to see it as an act of appreciation. That's not to say he wouldn't have appreciated it had I given it then, because I have no doubt he would, but I don't know if I would've received the same reaction from him.
Obviously, I eventually went through with giving him a Bulls travel mug (the one in the photo). I decided to do so my junior year, because it seemed very appropriate. I wasn't actually in his class anymore, but I ended up going to him for help with papers and other assignments for my AP English Language/Composition class as well as to make basketball conversation (I didn't really have anyone else to talk to about basketball). I felt that was worth, at least, a Christmas present, so I got him the perfect present.
I don't know anyone who loves coffee more than Mr. Clark, and he's probably the biggest Bulls fan I actually know. Before I gave him the mug, he had been using one that looked all plain, boring, kind of cheap (no offense), and not very durable. I'd seen Bulls travel mugs before, so I figured why not get him one?
I'm 99.9 percent positive that I gave it to him the last day of school before winter break, but I do know for a fact that I gave it to him after my Honors Pre-Calculus class first period, because I tried to give it before the school day began, but he wasn't there. So the passing period between first and second period was the next best option since his classroom was on the way to my second period AP English class, and it was a nice two minutes.
He seemed genuinely happy, excited, and grateful upon opening it, and that's my favorite part about giving presents. It was also kind of funny, because he admitted he thought I was giving him a bottle of wine since my mom put it in one of those wine gift bags.
Mr. Clark – Christmas 2012
I put a lot more thought into the presents I got for Mr. Clark my senior year. I also decided to not give him just one thing, because, once I get to know someone well enough, I hate just giving him or her just one present. Besides, after all of the help I'd receive with AP classes, my own journalistic writing, and college stuff, it was definitely worth it.
Anyways, I got him a Bulls desk calendar, Expo dry erase markers, and a Christmas-themed box of tissues, and each one was chosen for a very specific reason. It was also all wrapped individually in Bulls wrapping paper prior to being placed in a gift bag, because I really wanted to wrap presents, but those were pretty much the only things available to wrap at the time.
The Bulls desk calendar was primarily to help him know what day it was, which seems like an obviously stupid reason, but there's more to it. Oftentimes, Mr. Clark would ask me what day of the week it was, or I'd find that he'd write the incorrect day on his white board, so I found a desk calendar might help with that. Each day also had some Bulls trivia on it, and he seemed to enjoy that, because what Bulls fan wouldn't?
The Expo dry erase markers weren't anything special, but I just figured he could use some new ones—which he totally did. When he unwrapped this particular present, I could hear the excitement in his voice about needing new markers, which seemed really nerdy, but great at the same time.
As for the box of tissues, it's probably my favorite out of all three things due to it atypical status as a gift. It was very necessary and useful at the same time, though. Aside from the box of tissues I gave him, I can't recall a time he ever had tissues for his classroom. All he would have is a roll of toilet paper on his desk to be used in place of tissues, so he seemed pretty excited to get it. He also said his students were excited about there actually being tissues, so it was definitely a satisfying experience despite its oddity.
Mrs. B – Christmas 2013
Mrs. B was my high school yearbook adviser, and, during the two years I did high school yearbook, two things I learned about her were that she loves penguins and reading. So when Amanda and I came across an adorable penguin mug at Target, we knew we had to get it for her.
Of course we also had to get her something for the mug as well, so we also bought her some Starbucks hot chocolate. Strangely enough, I can't really recall what her reaction was to the mug, though I know she did mention that she likes hot chocolate. What I do remember is her reaction to were the books we gave her.
For the fall 2013 semester, Amanda and I took an English class called "Literature of Fantasy." We didn't care much for a good amount of the stuff we read for that class, so we figured we'd give the books we read for that class to Mrs. B since she enjoys reading so much, and I'm glad we did. Upon looking through them all, she mentioned that she hadn't even heard of some of the books my sister and I had given her. I don't know about most people, but I thought that was pretty cool considering the fact she reads tons of books. My favorite part about the books came months after we gave her them, though.
One of the books Amanda and I gave her was The Magicians, and that was the only book I enjoyed in the class. Mrs. B, however, pretty much hated it, and she felt so strongly about it that she purposely left it at the airport for someone else to have. It could potentially seem insulting depending on how one looks at it, but I honestly found it to be hilarious.
Phoebe – Valentine's Day 2013
This was one of those instances where Amanda and I found something we knew someone would love, so we really wanted to buy it, and this was one of the few instances we decided to actually go for it.
I'm not sure what we were at Target for, but, then again, I could pretty much say that about most trips to Target. Anyways, I'd assume we were probably buying candy and Valentine's Day cards to give out to our friends, but we stumbled upon this giraffe heart picture frame. The stand was composed of two giraffes whose necks and heads bent in a way that formed the outline of a heart, and the heart-shape is where the photo would go.
It was a perfect fit for Phoebe, because not only was it creative, but it also had giraffes, and she loves giraffes. Plus, with college coming up, picture frames are always a good gift to remember loved ones.
Phoebe – Valentine's Day-ish 2014
This gift was partially given out of guilt—guilt from not giving Phoebe a Christmas present. Typically, Amanda and I would undoubtedly get her a present, because she's one of our best friends, but this was our first year in college—her first year in college. Phoebe was off in California, and Amanda and I just never really got around to figuring out what to get her with the limited amount of time we had. So, sometime in the earlier part of 2014, after winter break ended and the spring semester was already underway, we decided to send Phoebe some macarons, because we know she enjoyed them so much.
Neither of us had any idea of where to get these macarons, but, after some Googling, we decided upon Bisous Ciao Macarons. I haven't the slightest clue of which flavors we sent or even how many we sent in the box, but I know for a fact it really brightened her day.
Phoebe posted a photo of them on Instagram with the caption, "I have the best friends in the world ❤️❤️❤️❤️❤️omg they just made a really crappy day so much better, they don't even know @amanda_carmela @hinrichbullsfan #perfecttiming #macarons #nyc."
I can't recall how she said they tasted or it they were even remotely good (I'm hoping they were), but that honestly didn't matter. Just knowing that was how she reacted to it was perfect. It's what's so gratifying about giving presents in the first place—being able to make that positive impact.
Dana – Birthday 2014
Two of the things I always associate with Dana are music and cats, because she absolutely loves both of this things. So, when it came to picking out her birthday present, something involving those two subjects was a definite possibility.
I couldn't tell you exactly when, but I had actually come across one of her presents a while before her birthday came around. I randomly found it one day, and I knew it'd be the perfect present for her: a Ticket Stub Diary.
Maybe I'm wrong—I've never gone to any concerts, and I've only been to five professional sporting events, so my numbers could be wrong—but Dana goes to a lot of concerts and a decent amount of sporting events. So, naturally, the diary seemed like a fantastic idea—it could preserve all of her tickets from those events and allow a bit of a written memory to go with them. That just didn't seem like enough, though.
I continued to look for another thing to give her along with the diary, and it took me a while to become set on something, but, when I came across this cat necklace from ModCloth.com, I knew I couldn't go wrong. I mean, it had a cat on it, and she loves cats.
I was right.
When Dana received the package (I had to ship it to her since I was away at school for her birthday), she sent me a Snapchat of her reaction. She said the Snapchat was really ugly, and I understood why she said it, but I honestly loved it.
I didn't screenshot it like some people would, but she drew these tears of joy running down her face, and it was great. Those kinds of reactions aren't ones you can just get every day, but it meant a lot to know that she appreciated my thoughtfulness, and it's always good to know that you do truly know some people well enough to get that kind of positive emotion out of them.
---
"Happiness doesn't result from what we get, but from what we give." ― Ben Carson