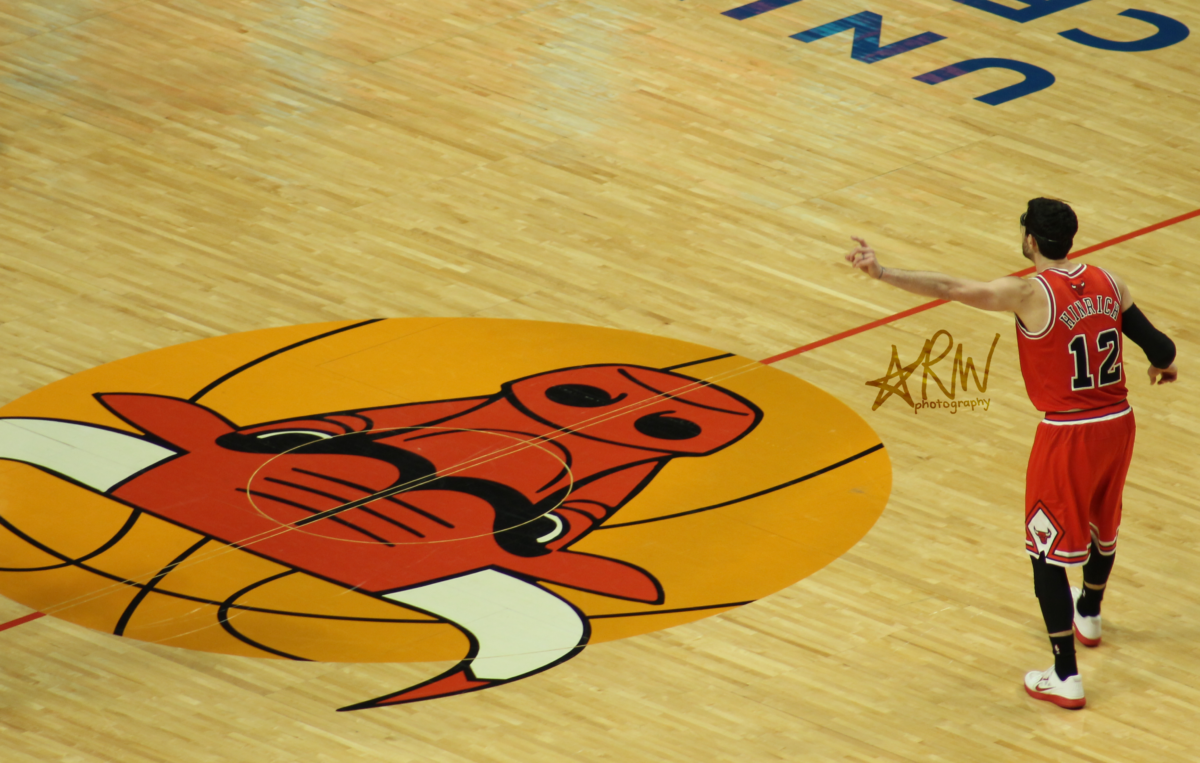 I've been interested in basketball for as long as I can remember, and the same goes for the Chicago Bulls, but it wasn't until 2003 that I really cared about the sport.
The Bulls have always been my favorite team—it was kind of hard to avoid—but I didn't have a favorite player for the longest time. I didn't care enough about basketball to have one. I favored Scottie Pippen a bit when I was a kid, just because I had my brother's hand-me-down Pippen Bulls jersey, but I couldn't even say I had even watched him play.
When 2003 rolled around, I suddenly had an increased interest in basketball—probably because my brother became more interested in it. I randomly became a fan of LeBron James and a bunch of other 2003-draftees, including Kirk Hinrich.
LeBron was so mesmerizing that he took the title of my favorite basketball player while Kirk was left with the title of my favorite Bulls player. Both of them played a large part in increasing my interest and basketball and developing it into a love. But, somewhere along the way, over the course of about six years, the fact Kirk was a Bull ruled out everything about LeBron to the point where Kirk became my favorite player.
Being in the Chicago suburbs, the Bulls were an NBA team I could watch on a regular basis, so I was able to watch Kirk play far more than I was able to watch LeBron—or at least keep track of him and the Bulls. It was just easier to root for Kirk, and he naturally became my favorite.
It wasn't until my freshman year of high school that I realized Kirk was actually my favorite basketball player, but it wasn't really surprising. Thanks to my brother, I had been a fan of his since he was drafted. With LeBron in Cleveland, a division rival of Chicago's, I probably should have expected it, since I'd root for the Bulls over any other NBA team no matter what. But I never would have expected him to have such as large of an impact on making me into the person I am today.
★★★
Once Kirk became my favorite basketball player and not just my favorite Bull, it was perfect: my favorite player was on my favorite team. What could possibly be better than that? But I took it for granted.
When Kirk was traded to the Wizards in the summer of 2010, of course I was devastated, and I thought that was my biggest problem, but I was completely wrong. The real problem was that I didn't appreciate what he had done for Chicago enough, and I didn't value his contributions enough.
Looking back at his first stint, it's difficult for me to remember particular moments well. Granted, for a while, I couldn't—and didn't—watch the Bulls. My family didn't have cable during my childhood, so it's not like I could even watch most things on television. I was eventually able to watch the Bulls on a regular basis around eighth grade, but it's certainly not the same as it is for me now.
When I watch the Bulls now, I don't just watch it so I can watch; I watch to appreciate it all.
Before, when I would just watch it because I want to, it was difficult to recall particular moments. But, now that I appreciate what I'm watching, it isn't as hard. I can remember when Kirk nearly went off against Rajon Rondo, when Ronnie Brewer fed Derrick Rose for a sweet alley-oop slam against the Detroit Pistons, when Kyle Korver showed Chicago how great of a shooter he was against the Miami Heat on January 15, 2011. I just wish I was able to recall more from Kirk's first stint in Chicago, like the moment he became the Bulls' all-time leader in three-pointers.
I haven't just applied this to basketball, though; I try to apply it to everyday life. I try to appreciate the time I have with family and friends and to remember the little things, because it makes the moments all the more special. I try to appreciate it all, because I know it won't all last.
I got lucky with Kirk and his return to the Bulls, because, now, I have a second chance to appreciate that time. This lesson of appreciation is just the beginning, though.
There have been various instances in which I've explained the role Kirk has played in my love for basketball, like when I dedicated a whole column to Kirk in my school's paper, so of course I'll always owe him for helping me realize that love. But the most important thing is he makes me happy.
It sounds really sappy and sentimental, but I don't mean for it to.
Whenever I'm down, I can simply turn to YouTube, watch some Kirk highlight videos, and have my mood lifted even if it's just for a moment. He reminds me of why and what I've come to love about basketball. He reminds me that talent isn't everything, that the little things matter, that hard work and determination are just as important as any skill.
★★★
This doesn't do Kirk justice, but I'm not sure anything I've ever write ever can, because a lot of times, it's just difficult to explain.
Without Kirk, my life would be drastically different: I would never have come to love basketball or the Bulls as much as I do. I wouldn't have some of the friends I have now. I wouldn't even know what I'd be trying to do with my life, because there's no way I would have even thought of aspiring to be a basketball writer if it weren't for him. All I know is that the fact Kirk Hinrich has made my life better, and, regardless of whatever team he's on or numbers he puts up, he will always have my support.
Here's to you, Captain. Happy 34th birthday.
---
"Let us be grateful to the people who make us happy; they are the charming gardeners who make our souls blossom." ― Marcel Proust