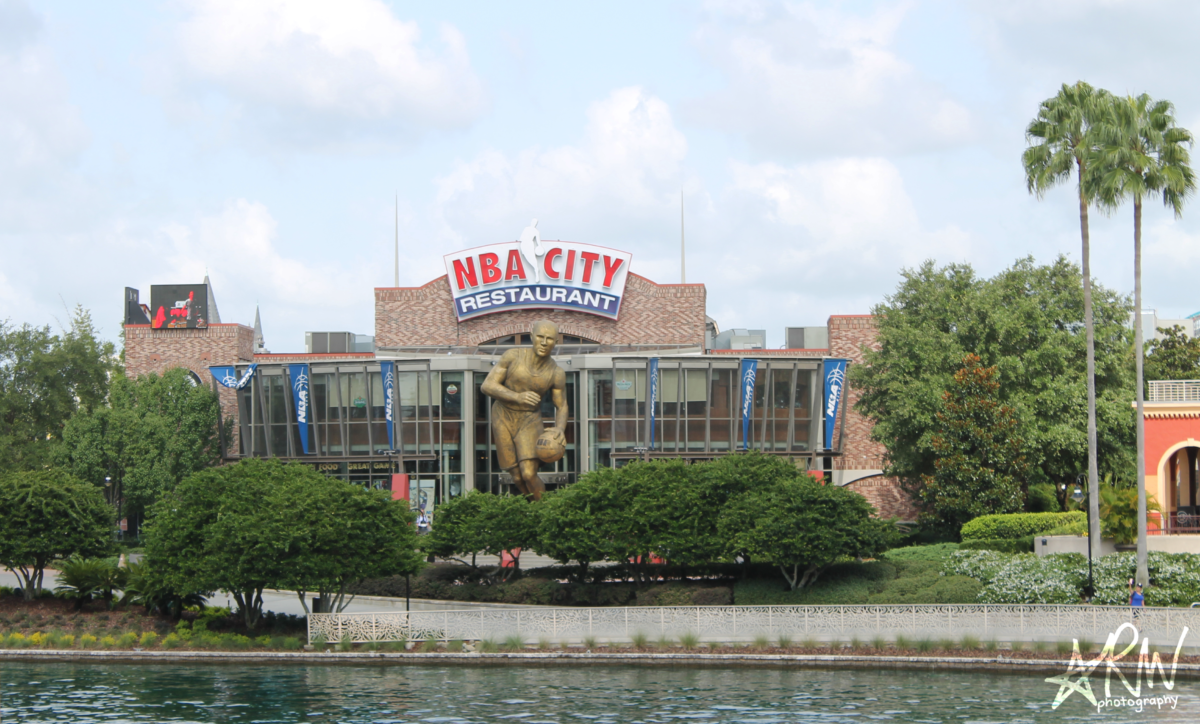 There's something about Disney World that occupies children's minds, pulls them in so much that it's the only reason they crave a trip to Florida. That's how it was for me anyway.
I've wanted to go to Disney World since I was a child, and, for a while, it was the only reason I wanted to go to Florida. That changed as time went on of course—not the wanting to go to Florida part, but the reasons behind it.
I still wanted to go to Florida because of Disney World, but I also wanted to go for the Wizarding World of Harry Potter, just to be able to say I've gone to Florida, to experience the change of pace Florida is in comparison to Illinois. And now I can say I've done all of that.
★★★
Unlike most people I know, my family flew to Florida as opposed to driving, and I'm glad we did. A drive that long would just stir up everyone's emotions and make us all more irritable than we normally would be, and my family got annoyed with each other enough throughout the actual vacation itself.
We split the time we had there between Disney World, Universal Studios, Orlando Vineland Premium Outlets, and the Hyatt Regency Grand Cypress Resort, but my siblings and I all knew the real purpose of this trip was Disney World.
Unfortunately, my family wasn't able to visit all four of the main parks that Disney World has to offer, missing out on Animal Kingdom. We were, however, able to make it to both of the parks that Universal Studios Orlando has to offer (no one in my family knew there were two separate parks until we got there), which was nice simply because it meant my siblings and I saw all of the Harry Potter attractions and such.
★★★
Day One: The Arrival
June 27
I hadn't gone on a plane since 2013, when my family flew to California for a wedding and vacation, so it was kind of stressful having to go through the whole process of it all: packing, making sure all of the necessities are packed, making sure no one's luggage is overweight, trying to fit seven suitcases in a SUV occupied by six people, going through security, waiting around for the plane, finding a place to sit, all of that wonderful stuff.
Thankfully, everything went perfectly fine and well. The flight was fine, and my family and everyone else on the plane with us arrived safely. In fact, on our first night there, my family ran into fellow Filipinos who worked at the hotel we stayed at, Hyatt Regency Grand Cypress.
My family hasn't even been in Florida for five hours, and we already found two Filipino employees at the resort we're staying at. #ofcourse

— Ashley Wijangco (@wijangco12) June 28, 2015
I really enjoyed my dinner that night, though.
With no car and having just got there, my family just went to the restaurant in the hotel, Cascade American Bistro. I, surprisingly, had a hard time deciding between the Myers Natural Burger and the Beef Tenderloin Sandwich. Usually, my go-to pick for food is a burger, but it was described as having horseradish aioli and red onion jam—neither of which sounded very appetizing. There was also the fact that the Beef Tenderloin Sandwich sounded like something I wanted to try. After all, it came on ciabatta bread, and I had yet to encounter bad ciabatta bread.
I ended up going with the Beef Tenderloin Sandwich, and it did not disappoint. The bread was, as I had suspected, delicious, but the sandwich, as a whole, was a good size and also delicious.
I also had dessert, which is actually atypical for me when my meal is from a restaurant. I'm glad I did, though, because the Oreo ice cream cake I shared with my twin sister, Amanda, was wonderful (we also really enjoy Oreos, cake, and ice cream, so all of that together made it even more exciting).
Day Two: Epcot (Disney World)
June 28
Going in, I had no actual expectations for Epcot. I didn't know much about the park itself, what it had. I knew it contained different "countries" within it, but there wasn't much else I knew about it. I just knew I was excited to finally be at Disney World.
When I spoke to my eight grade social studies teacher about going to Disney World last month, he suggested that Amanda and I do the Phineas and Ferb thing. He described it sort of as a scavenger hunt, and I trusted that he knew what do to there considering he had been there before, so I took it into consideration. But, unfortunately, there wasn't much time for that to be done.
There weren't many rides at Epcot, but my family went on a few. My favorite one from there, though, was definitely the Test Track, because it was the most thrilling one. It also involved cars: everyone designed a car and then rode in one for the ride.
Besides that, it was cool just to see all the miniature versions of the countries. It would have been nice to actually go to each one there, explore more, and try more of the foods offered there. My brother did get this awesome umbrella disguised as a katana, though.
Day Three: Downtown Disney
June 29
My family went to Downtown Disney instead of another Disney World park because my mom's cousins invited us to dinner that night, so we didn't want to be rushed more than usual.
Downtown Disney is an area of Disney World that has a bunch of shops and restaurants, like a downtown area of a city would have, so there was nothing too special about it to be honest. It looks really nice, though, and there are a variety of shops, plenty of places to look at cool shirts and toys I wanted but couldn't afford (my older brother, Winston, bought a Buzz Lightyear, though, and it's awesome).
One of the coolest parts about it was the fact they have a Build-A-Dino (Build-A-Bear Workshop's dinosaur-themed store). And I really wanted to build a dinosaur, but I wasn't going to buy one, so that never happened.
Once my family got there, though, we went to the Ghirardelli Soda Fountain for ice cream, and that alone was well worth the trip to Downtown Disney. I shared a "Cookie Bits Sundae" with my siblings, described as such:
Vanilla ice cream nestled between cookies 'n cream ice cream and smothered with our freshly homemade hot fudge. Topped with whipped cream, Colossal Ghirardelli Chocolate Chip Cookie crumbles and two Ghirardelli® Milk & Caramel minis.
Honestly, the ice cream was probably the most eventful part of that day.
Day Four: Universal Studios Florida (Universal Studios Orlando)
June 30
There was only one reason I wanted to go to Universal Studios Orlando: The Wizarding World of Harry Potter. But, as it turns out, I liked it much more than I thought I would.
For one, at the Universal CityWalk, I discovered the NBA City Restaurant, so I spent the entire day wanting to go there. I actually wanted to go there for lunch, which didn't happen, but that's okay.
We spent most of our time at Diagon Alley, looking at the shops and such, getting a feel for it all, and it was really well done. It felt very authentic, and it made me want to watch the movies over again. It was also really cool to wait in line because of the authenticity. When you get inside the actual building, it looks just like how Gringotts looks in all of the movies.
The rest of the rides were enjoyable as well. The 3D Transformers ride was cool, and it has contributed into my liking 3D rides more than before, but Hollywood Rip Ride Rockit was my favorite of the day. It was the only roller coaster we went on, and what made it great was the fact you got to pick a song to listen to while riding it. Thankfully, it wasn't limited to popular music you'd find on the radio, so I picked "Paralyzer" by Finger Eleven.
After all of the rides, my family re-traced our steps and went back around so Winston could buy some souvenirs. He got a bunch of Simpsons-related things, including a giant, pink-frosted doughnut like the one that can be found in the show. It didn't taste much like a yeast doughnut. It tasted somewhat cake-like, but not entirely so. Regardless of that, it was still really delicious, and I wish I could have one right now and every day afterwards.
Day Five: Islands of Adventure (Universal Studios Orlando)
July 1
Islands of Adventure was the best park out of all of my vacation in terms of rides. First off, they have Hogsmeade, which has both the Dragon Challenge, a roller coaster, and Harry Potter and the Forbidden Journey. The Dragon Challenge was a roller coaster, but I actually enjoyed the Forbidden Journey more.
Similar to the Gringotts ride at Universal Studios Florida, the Forbidden Journey felt very authentic. When you waited in line, you got to walk through Hogwarts, and that just felt really cool. The ride itself was just as great you got to "fly" around Hogwarts and the surrounding area. My siblings and I actually rode it twice so both our mom and dad could ride it (each car only allows four people, and someone had to watch all of belongings since  there were no available lockers or lockers that would fit our stuff).
As great as the ride was, though, my favorite part of the day was went I finally got to go to the NBA City Restaurant after my family was done at Islands of Adventure. I didn't actually go to the restaurant part of it, though. Rather, I went to the store attached to it, and I tried my hardest not to look too much through all of the merchandise knowing I wouldn't really be able to buy much from there. Thankfully, my mom offered to buy me two shirts since there was a "Buy one, get one half off" promotion.
To put it simply, I didn't want to leave.
Day Six: Orlando Vineland Premium Outlets
July 2
Typically, there's nothing too exciting about a day spent at the mall—except maybe for buying something, if anything. But my family's trip to the outlet mall was actually quite the event.
The Tommy Hilfiger outlet has a V.I.P. experience, and, somehow, my family was able to be apart of said experience because the hotel's shuttle was already full. A bus (think your standard city bus like Pace) came to the hotel and picked up those guests who got the V.I.P. experience, and, (I kid you not) when we got to the mall, a red carpet was rolled out onto the sidewalk for us to walk on upon entering the store. There was also a V.I.P. lounge for us to hang out in, where you could check out items with no wait, bathrooms, and outlets to charge electronic devices.
But, as cool as all of that was, my favorite part of the shopping spree was getting the latest LeBron James Christmas jersey for only $15(!!!) and a Stephen Curry Warriors shirt.
Day Seven: Pool Day at Hyatt Regency Grand Cypress
July 3
After walking so much at Universal Studios, going to the outlet mall was supposed to be a bit of a break. And it was, but it wasn't enough.
With my siblings and I wanting to go to Magic Kingdom on the Fourth of July to see fireworks, we decided July 3 would be perfect for as a pool day.
I don't really swim—nor do my siblings—so we didn't do too much swimming in the pool. It was mostly just us sitting in the pool, enjoying the fact the water was cool while swimming a bit and doing front flips in the pool (or attempting if you're my brother).
We also played beach volleyball—which was exciting for Amanda and I as former volleyball players who don't get to play much anymore—and rode a paddleboat. The paddleboat was really difficult, though, because Amanda and I aren't in that great of shape anymore, and we were the only people peddling the four-person paddleboat. It was still all really fun, though!
For lunch (I really like food in case you haven't noticed), Winston was kind enough to buy me a turkey club sandwich and nachos from the outdoor, poolside cafe at the resort—both of which were very good and came in what looked like dim sum baskets, but there were a lot of nachos that, unfortunately, went unfinished.
Day Eight: Magic Kingdom (Disney World)
July 4
One of the reasons I enjoy the Fourth of July is that it gives me an excuse to wear my American flag-themed clothing. However, it is also a problem because I've accumulated a bit of such merchandise: shirts, socks, and shorts. Regardless of that, I was excited for the day simply because it gave me an excuse to wear my USA TWLOHA shirt.
Besides that, though, I got to go to another part of Disney World, so that was obviously exciting. We didn't actually go on many of the big, exciting rides, but it was still enjoyable. The biggest ride my siblings and I went on was Splash Mountain. We had to wait in line for about 70 minutes, and it was not worth it.
To be honest, we only rode it because of Amanda. Winston and I did want to go on it, but not nearly as much as Amanda, who had complained about wanting to ride Splash Mountain since we went to Disneyland during the summer of 2013. For that reason, we made sure we went on the ride this time around.
It ended up being much more scenic than I was expecting, and it didn't even go very fast or have many sharp turns. It felt like a different, a little faster version of It's a Small World with a 50-foot drop. I was actually much more satisfied with Buzz Lightyear's Space Ranger Spin, because I liked shooting all of the targets and spinning the car Amanda and I were in.
The best part of Magic Kingdom was, by far, the fireworks show, because it was phenomenal. I don't have much to say about it other than, for the finale, there were fireworks being shot off from all directions, 360 degrees. It was awesome.
Day Nine: Hollywood Studios (Disney World)
July 5
This was my family's last full day in Florida, and we decided to finish off the trip at Hollywood Studios as opposed to Animal Kingdom because we felt it would be more enjoyable.
My mom, my siblings, and I started off by watching Beauty and the Beast, but we went around looking at stores first since we had time to spare before we could even line up for the show. And I'm glad we did, because, at the Hollywood Studios store, they had the yellow Power Ranger's suit from Mighty Morphin Power Rangers on display. It was very exciting, because I grew up watching the Power Rangers (thanks to Winston's influence), and the yellow Power Ranger was my favorite.
As for the Beauty and the Beast show, it was nice, pretty well done. But, because it was only a half-hour long show, it lacked too many details. Regardless, it was still a good show and worth watching.
Afterwards, we started to make our way to the Indiana Jones stunt show, but were stopped by the Frozen parade—a completely acceptable road block, because I really enjoy Frozen. I just felt bad for all of the people involved in it, though, because it was really hot, and here they were dressed in clothes for winter. They were all very believable, though—except for Kristoff, who I felt didn't look enough like Kristoff, but that was okay.
Overall, we rode Star Tours twice and saw Beauty and the Beast, an Indiana Jones stunt show, the Muppets 3D show, an extreme stunt show with cars, a short film about Walt Disney, the Frozen sing-along, and Frozen Fever.
It was just a good way to end our trip to Florida, partly because I discovered that Pizza Planet is indeed a restaurant at Hollywood Studios (my siblings and I were confused as to why there wasn't a Pizza Planet restaurant at Disney World, but we were mistaken) and because I finally got some funnel cake.
---
"Laughter is timeless. Imagination has no age. And dreams are forever." ― Walt Disney