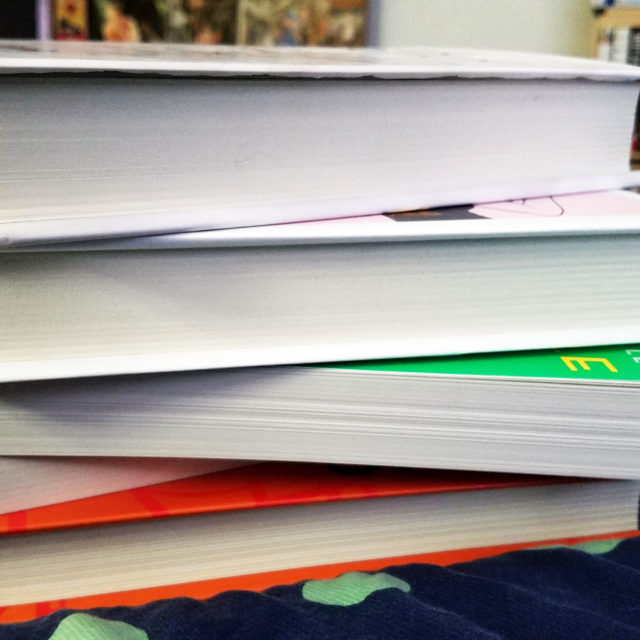 At the end of each month, I will write blurbs about books I have read, purchased, and/or received. I will briefly review books that I read, giving them a rating out of five stars. I will also briefly describe the new books I got, explaining where I got the book and why I want to read it.

Books I Read
One of Us is Lying by Karen McManus
Genre: Young adult fiction
Premise: Five high school students are framed for wrongdoings that earn them detention, but one of them, Simon, dies during detention. Authorities rule out the death being an accident, leaving the four other students as suspects in his murder.
Likes: I loved the multiple perspectives and the interactions and growth all of the main characters had. McManus did a great job of giving time to each of the main characters, allowing them to develop properly. Even though I figured out the case early on, the story was still suspenseful and kept me wanting more.
Critiques: I wanted the mental health aspect of the narrative to be more directly and considerately addressed. I also would have preferred if the ending was more open-ended and focused on the four students as a group as opposed to one pair's relationship and a minor plot point in the story.
Rating: ★★★★ ½
Crazy Rich Asians by Kevin Kwan
Genre: Fiction
Premise: NYU economics professor Rachel Chu and her boyfriend and fellow NYU professor, Nicholas Young, are going on vacation for the summer. He invites her to take a trip to Asia, starting with his homeland of Singapore for his best friend's wedding. Unknown to Rachel, Nick comes from an absurdly wealthy family, so Rachel has to face the overwhelming challenge of meeting Nick's friends and family, earning their approval, and adapting to the an overly extravagant environment she's nowhere near prepared for.
Likes: The backstories and flashbacks provided made for full characters with depth, which made it easier to understand who they are. Revisiting past scenes and moments also helped with the progression of the narrative in a way that was easier to grasp and more effective than simply describing one's past.
Critiques: If you've seen the movie, then you'll know there's a plethora of characters in the story. But it's much more difficult to keep track of and distinguish them in the book. If I hadn't already seen the movie, I'd have been more confused. I also would've like to see a more close-ended conclusion with the conflict of Nick and his mom.
Rating: ★★★★
Pillow Thoughts by Courtney Peppernell
Genre: Poetry
Premise: Pillow Thoughts is a collection of poetry divided up into different sections based on what one's feeling: need a reason to stay, in love, lonely, and more.
Likes: The themes are a great way to organize the book, and they easily allow readers to go back and revisit whatever section currently resonates with them. The poems contain good ideas that are easy to understand and relate to.
Critiques: Although poetry doesn't really have rules, the use of run-on sentences became increasingly cringeworthy as I progressed through the book, especially because I'm a stickler for proper grammar. The poems themselves could've been a little more complex, too, but that could just be my own personal preference of less straightforward poetry.
Rating: ★★★ ½
Books I Got
After the Shot Drops by Randy Ribay
Where: From Amazon as a gift from my friend Erin
Why: After the Shot Drops is a young adult novel with basketball playing a central role in the narrative. Two best friends go their separate ways after one of them goes to a private school on an athletic scholarship. Young adult fiction is one of my favorite genres, and basketball is my absolute favorite sport and one of my biggest interests, so it's no wonder I added this to my "Want to Read" list on Goodreads. I also just learned that the author is a fellow Filipino, which makes me even more excited to read this book.
The Crazy Rich Asians series: Crazy Rich Asians, China Rich Girlfriend, and Rich People Problems
Where: Crazy Rich Asians on sale from Target; China Rich Girlfriend and Rich People Problems on sale from Barnes and Noble
Why: I've wanted to read this series since watching the movie. I enjoyed the movie but wanted to read the original story, see how the two compare, and how the original narrative progresses.
Emergency Contact by Mary H.K. Choi
Where: From Amazon as a gift from my friend Erin
Why: I stumbled across this book after seeing a promotional post for it on Instagram. Emergency Contact tells the story of how two people, Penny and Sam, develop a deep, meaningful relationship via text messaging after their awkward first encounter. As an introvert, I totally relate to how making a connection through technology can be easier than in person, so I'm interested in how Penny and Sam's story plays out.
The Ice Twins by S.K. Tremayne
Where: On sale from Barnes and Noble
Why: I've never read a book with twins as central characters—let alone identical twin sisters. But, as an identical twin, I'm definitely interested in reading stories with such characters, which is one of the biggest reasons why I decided to buy this book. The Ice Twins is about identical twin sisters Kirstie and Lydia. Lydia ends up dying in an accident, but Kirstie, the surviving twin, claims that she is indeed Lydia and that her identity has been mistaken. This mystery had me intrigued from the get-go, and, as a fellow twin, I'm especially interested in finding out how Tremayne develops these twin sisters and how they're distinguished from each other.
The Last to Let Go by Amber Smith
Where: On sale from Barnes and Noble
Why: My twin sister, Amanda, actually picked out this book, and I was interested enough in it to buy the book. (Amanda and I often share books, so if we are both interested in reading a book, I'll often buy it.)
The Last to Let Go is about high school junior Brooke Winters and her siblings learning to live and navigate life without their parents: Brooke's mom was arrested for killing her abusive father, but whether it was self-defense remains to be seen. Upon first reading the description, I was intrigued by the emotional journey Brooke would be facing in trying to be independent and finding herself.
The Nightingale by Kristin Hannah
Where: On sale from Barnes and Noble
Why: I discovered this book on Instagram from my friend Lizzie's story. She's a great writer and has superb taste in books, so I knew this book was worth looking up. When I found it on sale at Barnes and Noble, I decided to get it, because 1. it was on sale, and 2. it has a compelling story and lies outside of my "normal" reading habits. The Nightingale is about two sisters and their differing experiences in dealing with Nazis during World War II. I don't usually read historical fiction, but, if Hamilton has taught me anything, it's that I grasp history better when in the form of a narrative.
The Party by Robyn Harding
Where: On sale from Barnes and Noble
Why: The first book I read this year was a mystery/thriller, but I had never really read one before. I liked experiencing a suspenseful story, so I was happy to find this thriller on sale at Barnes and Noble.
The Party is about a sweet sixteen party gone awry. What was supposed to be the cliché sleepover party with movies, pizza, and cake for Hannah ends in tragedy, leaving her parents to deal with the mess left behind. When I first read the description, I got some Pretty Little Liars vibes, so I felt this book would be a good next read for me in terms of reading more thrillers.
People Kill People by Ellen Hopkins
Where: On sale from Barnes and Noble
Why: I've had this on my "Want to Read" list on Goodreads for a few months months, so, when I found it on sale at Barnes and Noble, I knew I had to get it. As the title suggests, People Kill People concerns death. More specifically, it concerns gun violence. A teenager purchases a gun for protection from a classified advertisement, but the reader is left going through the journey of which teenager purchases the gun, who's going to use it, and who's going to die because of it.
With the unfortunate commonality of gun violence in the U.S. nowadays, this book immediately piqued my interest and seems like an important one to read.
Pillow Thoughts by Courtney Peppernell
Where: On sale from Target
Why: Earlier this year, I came across a poem from this book, and it resonated with me on a deep level. I instantly added it to my "Want to Read" list on Goodreads and was excited when I found it on sale at Target. I've found reading poetry and other poetic writing that I can emotionally relate to is important for me and my own emotional wellbeing, so I knew I had to get this book if I could.