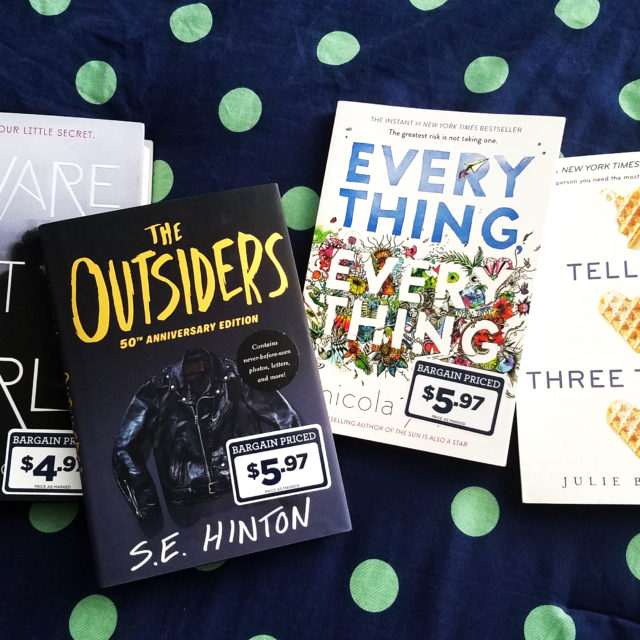 At the end of each month, I will write blurbs about books I have read, purchased, and/or received. I will briefly review books that I read, giving them a rating out of five stars. I will also briefly describe the new books I got, explaining where I got the book and why I want to read it.

Books I Read
Rich People Problems by Kevin Kwan
Premise: The final novel in the Crazy Rich Asians trilogy, Rich People Problems mainly concerns how Shang Su Yi, the Ah Ma of the family, is on her deathbed. With her imminent passing, many relatives are traveling to Singapore to say their goodbyes. Even Nicholas Young, the favorite grandson who had a falling out with her five years ago, is returning to the country, hoping to receive forgiveness and make up for lost time. But there's also a lot of wealth to be inherited—most notably the extravagant, unique, enormous mansion that is Tyersall Park.
Genre: Fiction
Likes: The way the minor plot points and issues tied into the main narrative was really satisfying, because I hadn't experienced that in the first two novels. All of the minor plots were intriguing but made for a better story because they connected with the main plot. I also loved learning more about Su Yi and her backstory. She has so much more depth and is more interesting than anticipated, so learning about her character was fun.
Critiques: The most difficult part about reading RPP is keeping track of all of the characters. There are just so many that it's easy to forget characters you've already met, forcing you to revisit stories just to figure it out. However, I'm a fellow Asian who comes from a gigantic family, so I understand the plethora of characters. It just would've been nice if it were easier to keep track of everyone, but I suppose that could just be my own personal problem.
Rating: ★★★★ ½
Five Feet Apart by Rachael Lippincott with Mikki Daughtry and Tobias Iaconis
Premise: Stella and Will are two teenagers who fall for each other but can't quite be together and have a normal romantic relationship because their cystic fibrosis doesn't allow it.
Genre: Young adult
Likes: Five Feet Apart has an interesting premise with intriguing, well-developed characters. Stella, Will, and their friend Poe (who also has cystic fibrosis) were much more than just CF patients. Stella is a smart, determined albeit somewhat controlling young woman. Will is a carefree, rebellious guy who wants to live his life to the fullest no matter the risks. Poe is a skater and budding chef who has commitment issues. The supporting characters were purposeful and well utilized, too. I liked the different relationships the characters had with one another. The minor issues were good additions, too, and tied into the story nicely.
Critiques: I wanted more development concerning Stella and Will's relationship, because I felt it was a bit sudden and rushed into. I understood the initial feelings of "like" they had but wanted more a little more concerning how their feelings—particularly Stella—developed into deeper ones that prompted them into pursuing a relationship.
Rating: ★★★★
Books I Got
Beware That Girl by Teresa Toten
Where: On sale from Books-A-Million
Why: I had never heard of Beware That Girl before discovering it at Books-A-Million, but I saw it in the young adult area of the sale section and decided to see if its story piqued my interest. And it did. Nowadays, if the setting of any book is in New York City, I'm more inclined to read it just having lived there for a summer and missing it dearly. But I've also found myself more interested in exciting, suspenseful thrillers, so I find the thriller aspect of this book in a school setting intriguing as well.
Dear Evan Hansen: Through the Window by Steven Levenson, Benj Pasek, and Justin Paul
Where: On sale from Books-a-Million
Why: Dear Evan Hansen is one of my favorite musicals, so when I saw that the coffee table book about the musical was on sale for under $13 instead of being the retail $40, I knew I had to get it. Not only did I think it'd be dumb to not buy it, but I knew I'd regret it, too.
Everything, Everything by Nicole Yoon
Where: On sale from Books-A-Million
Why: The first time I was really introduced to the story of Everything, Everything was when I saw the movie trailer for it, and I was intrigued by the concept. However, I still haven't seen the movie and refuse to because I have yet to read the book. But that should change soon now that I was able to purchase a copy of if at just under $6.
The Girls at 17 Swann Street by Yara Zgheib
Where: St. Martin's Press
Why: I came across a Facebook post about getting a free copy of this book. Upon reading its premise concerning dancers and eating disorders, I instantly knew it was a book I wanted to read. I love reading young adult fiction books that tackle mental health, and I'm a dance fan. So this seemed like a great fit for me and like an important read.
The Outsiders by S.E. Hinton
Where: On sale from Books-A-Million
Why: The first time I read The Outsiders was in seventh grade, which was a little over a decade ago. I don't reread books often, but I want to start getting into it–particularly books I read in school, enjoyed, but certainly need a refresher on, which includes The Outsiders. At $5.97, it was too good of a sale to pass up. Plus, there's going to be an Outsiders musical premiering at Goodman Theater in Chicago next summer, so it'll be good to have the book to read before then.