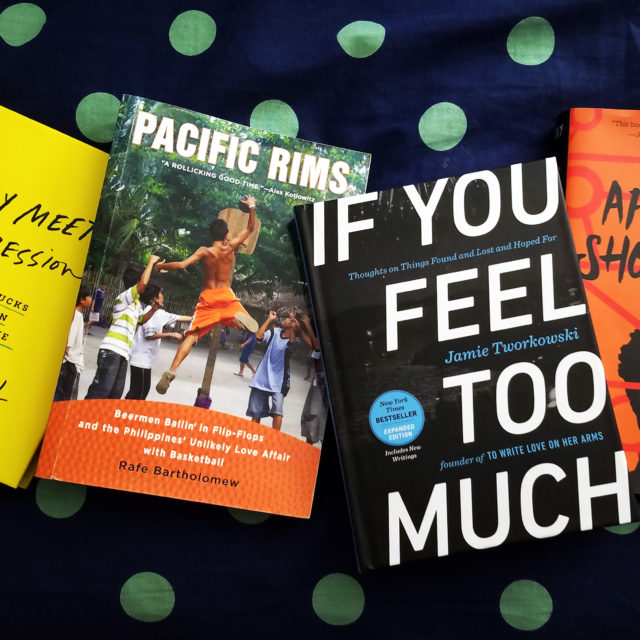 In honor of World Book Day, I felt it would be appropriate to compile a list of some of my favorite books. I will admit that I haven't always been an avid reader—let alone someone who cared about books. As a writer, I know this sounds terrible, but it's the truth. I had nothing against books or even writing. For most of my life, I  just usually didn't enjoy reading unless it was about sports, because it always felt like a task.
It wasn't until after I graduated college in May 2017 that I finally began to find joy in reading, so I guess the excessive amounts of reading I had to do in school skewed my perception of reading. This isn't to say I didn't like any books before entering adulthood; there just weren't that many.
As I near two years post-graduation, I have become an avid reader who is still trying to discover all that literature has to offer. From basketball and sports to Filipino culture to young adult fiction, listed below are just some of my favorite books—I wanted to include a variety of genres and topics. I don't have definite favorites beyond a tie for my absolute favorite book (the first two listed), so these books are listed in a random order. Most of these books are also ones I've read within the past two years.

1. Pacific Rims: Beermen Ballin' in Flip-Flops and the Philippines' Unlikely Love Affair with Basketball by Rafe Bartholomew
Of the authors of the books included in this list, I have had the fortune of meeting three of them. Rafe is one of them and also the one I met most recently. When I lived in New York during the summer of 2017, I met Rafe at a book event and then later met up with him to talk writing and basketball. I first learned of him and his writing on the now-defunct Grantland, which led me to his book Pacific Rims. Like many other Filipinos, I LOVE basketball. But I had no clue the extent of the passion Filipinos have for the sport until I read Rafe's book. It taught me so much about basketball in the Philippines at various levels, life in the Philippines, and Philippine culture. I've never been to the Philippines nor have I learned much about the country—whether it be from my parents, school, or elsewhere—so I appreciated the knowledge I got from this book.
2. If You Feel Too Much: Thoughts on Things Found and Lost and Hoped For by Jamie Tworkowski
I didn't truly realize I was a person who felt "too much" until I read this book. IYFTM is by the founder of To Write Love on Her Arms, Jamie Tworkowski—whom I've had the tremendous opportunity of meeting twice—and it's sort of a memoir meets self-help book. It's a collection of writing that details numerous events in his life, his thoughts on various happenings in the world, and even writing he has gifted to others. The writing is so heartfelt and personal, and the content really speaks to your heart. It's a book I think everyone could take something from, and it's the only book I've reread too many times to count. I love this book dearly, and it helped me learn to use writing in a therapeutic manner.
3. Every Last Word by Tamara Ireland Stone
Every Last Word is a young adult fiction novel that details popular girl Samantha McAllister's struggle with obsessive compulsive disorder, her journey to find herself, and her discovery of writing and its power. Sam's narrative is compelling and includes a great twist, making it one of the few books I've given a perfect rating on Goodreads.
4. What Made Maddy Run: The Secret Struggles and Tragic Death of an All-American Teen by Kate Fagan
With What Made Maddy Run, I got to read about two topics I most enjoy reading about: sports and mental health. Fagan's book originally began as an article on ESPNW that told the tragic narrative of a Penn student-athlete who dies by suicide. The books goes into further detail about that story, her life, and the people in it while adding just enough technical information about suicide and mental health. One of the reasons I like this book so much is that it shows how athletes are and need to be seen and treated as people and how overwhelmingly intense young people can feel.
5. The Latinos of Asia: How Filipino Americans Break the Rules of Race by Anthony Christian Ocampo
As I've grown older, I've wanted to learn more about my Filipino heritage, because I eventually realized I wasn't satisfied with what I did—or rather didn't—know. I was especially intrigued by this book, because it would help me learn about other Filipino Americans and what their experiences are like. Even though I grew up in a community with a good amount of Filipinos and had some Filipino friends growing up, our heritage, culture, and background weren't often things we spoke of. So it was nice to read about how my experiences compared to others'.
6. Last Days of Summer by Steve Kluger
Despite it originally being published in 1998, I had never heard of this book until last fall when my favorite actor, Corey Cott, was announced as the lead for the book's musical adaptation. I was hoping to see the show but, knowing it was based on a book, wanted to read it first. So I purchased the book and planned on finishing it before seeing the show. I, unfortunately, didn't end up getting to see the musical; however, I ended up really enjoying the book much more than I thought I would. This book tells the story of a young Jewish boy who lacks a father figure, a young up-and-coming baseball star, and their unlikely friendship during the World War II era. I enjoyed the character and relationship development and found its epistolary method of storytelling to be creative and refreshing.
7. Barangay to Broadway: Filipino American Theater History by Walter Ang
I'm kind of cheating with this one, because I haven't actually finished this book. But what makes this book perfect for me is that it allows me to learn more about the Philippines and Filipinos in the Broadway/theatre industry, and the history behind it. Since developing an interest in Broadway less than two years ago, I've come to realize—unsurprisingly—just how many Filipinos are in the industry. So it's cool to learn about those who have helped paved the way for Filipinos currently in the industry and the influence they've had.
8. Gmorning, Gnight!: Little Pep Talks for Me & You by Lin-Manuel Miranda
This is a fun, uplifting book filled with short musical blurbs written by Hamilton creator, Lin-Manuel Miranda. These short passages merely began as daily tweets he posted in the morning and at night, but people loved them so much that they wanted them to be in the form of a book. The book also includes complementary illustrations that make for a nice addition.
9. Boy Meets Depression: Or Life Sucks and Then You Live by Kevin Breel
A memoir by a cool, funny guy with a nice shoe game, Boy Meets Depression is a very honest account of Breel's battle with depression. As someone who has never personally dealt with depression, Breel's book gives a real, albeit difficult insight at what life with depression can be like. Understanding is seen as such an important concept nowadays, and Breel's writing can help you gain a better understanding of how it is to live a life where mental health isn't easy.
10. The Upside of Falling Down by Rebekah Crane
What I enjoyed most this young adult fiction novel was its original plot. A plane crash in Ireland kills everyone on the flight with the exception of one person: American teenager Clementine Haas. Though fortunate enough to survive, Clementine has amnesia and needs to rediscover herself, which—unsurprisingly—turns out to be a tough task. It's a compelling story about fear, identity, and the pressure to be someone you may not be.
11. Michael Jordan: Bull on Parade by Wilfred Santiago
More of a graphic novel, this book is a fun way to experience Michael Jordan's basketball journey in a simple, yet wonderfully illustrated manner. I know books are, for the most part, about words, but this book is a reminder that pictures have a place in books and storytelling, too.
12. After the Shot Drops by Randy Ribay
One of my most recent reads, After the Shot Drops not only features a Filipino character, but it was written by a Filipino author. What's cool is that I didn't know either of these things when I discovered the book and decided to read it, so it was a pleasant surprise. The story itself is a emotional, well-written piece that does a tremendous job of exploring the loving, yet sometimes tough nature of family and friendship while also including basketball.