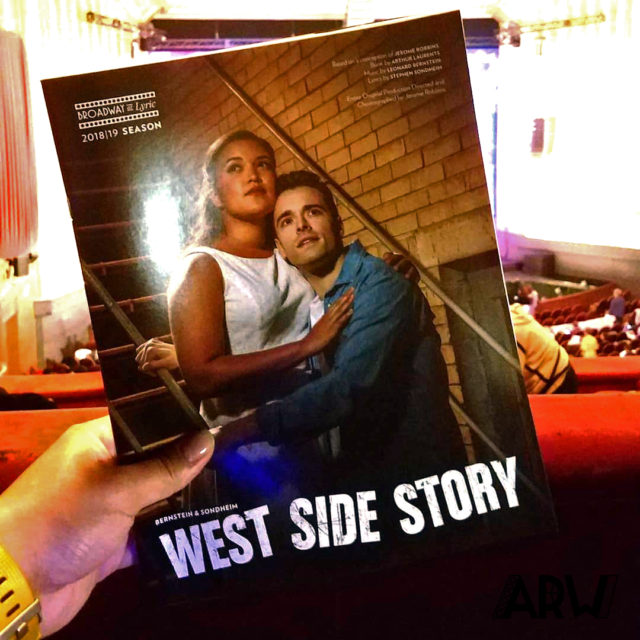 I first heard about Lyric Opera's production of West Side Story last year and have known since that I wanted to watch the show. I had seen the original 1961 film a few times, enjoyed it, and had listened to multiple versions of its songs, but I had never seen a live stage production of West Side Story. So I knew Lyric Opera's production would finally be my chance to see the Romeo and Juliet-based musical live.

Upon learning at the start of the year that my Broadway favorite, Corey Cott, would be starring as Tony in this production, I, first, freaked out, because this was the exact casting I had been hoping for. Then, out of obvious excitement, I bought tickets as soon as possible. I would've bought them immediately, but I needed to wait to get paid.

I, however, ended up seeing the show a week earlier than anticipated when I was selected as a West Side Story insider, which entailed watching and live-tweeting the final dress rehearsal on Thursday, May 2. I had been counting down the days until I'd finally get to watch the show, watching all the behind-the-scenes videos Lyric Opera posted on social media, and checked the Chicago Tribune daily for ads. In case it wasn't obvious, I was excited, so I was even more thrilled about getting to see the final dress rehearsal!
I had never been to a final dress rehearsal before, so I wasn't sure what to expect. This one, however, was an invited dress rehearsal, so the theater was pretty packed. I sat in a box in the mezzanine with the several other social media insiders—one of whom was my twin sister, Amanda. The last time I had sat in a box was nearly two years ago when I watched the American Ballet Theatre's production of Whipped Cream at the Metropolitan Opera House in New York, but it was a small side box. At Lyric Opera, though, the box I sat in offered a front view and provided adequate space.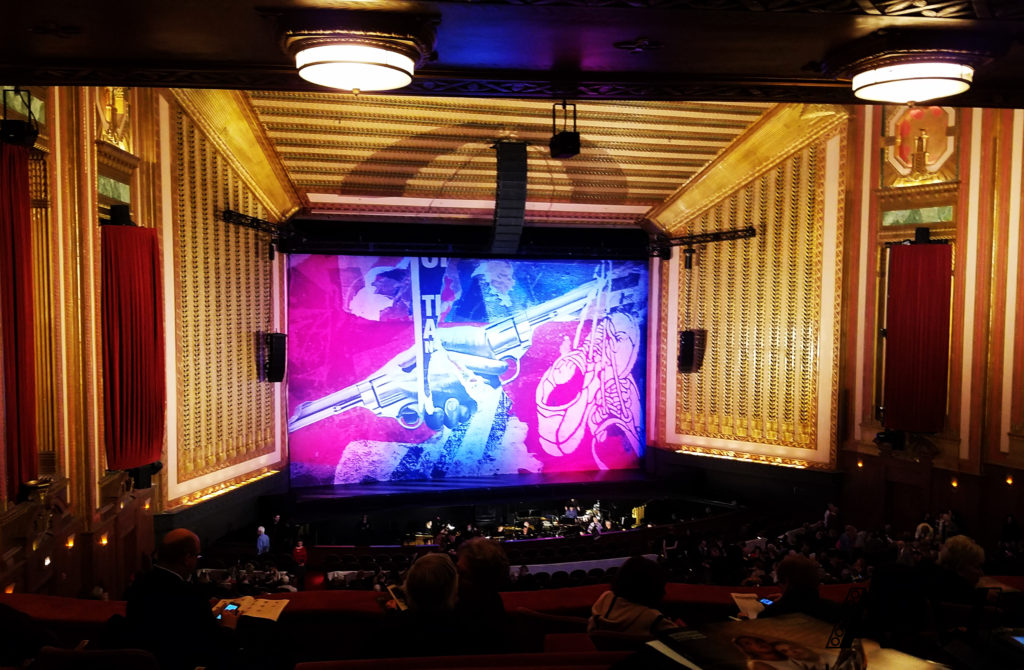 I had never been to the Lyric Opera before, so I was in awe of how beautiful the theater is. Being in a box, I was high enough up to appreciate the intricate details of the place as opposed to if I was sitting in the main floor.

When the dress rehearsal began around 2:15 p.m., it was a little strange having my phone still on and out in my hands, ready for any tweets that came to mind. Admittedly, I felt more pressure and wary of what to tweet, because my tweets were just some of the ones being used to promote the show and create a conversation regarding it. The more I think about that, the weirder it seems, because I've been live-tweeting for nearly a decade. But this was different with it being a Broadway musical and not a basketball game.

One of the things that was emphasized prior to the rehearsal's start was the fact the performance we were all about to see was just a rehearsal. As such, the show could be stopped at any moment, and performers may not be going all out with their singing and/or dancing. It was a fair and understandable statement, but if I didn't know better, I would've thought I was watching a legitimate performance. From the cast to the orchestra, everyone was outstanding. There was really only one instance in which I thought that perhaps a performer wasn't going at it with full power.

Just minutes into the rehearsal, I was already loving the choreography—and my positive feelings for such only grew from there. The choreography is so technical and well-executed and does a tremendous job of capturing the essence of the narrative. The cast, especially the ensemble, deserves so much love and praise for their dancing. It also felt somewhat surreal seeing the set, the performers, and the choreography live and in person after having seen glimpses of it all online.

It wasn't long either until I loved Brett Thiele's portrayal as Riff. His voice is wonderful and drew me into his character in a way I hadn't been drawn to Riff before.

When Corey Cott came onstage for his first scene, I was overjoyed. The last time I had seen him perform was late August 2017 when, after an entire summer in New York, I spent my last Friday night watching Bandstand for a third time. In those nearly two years, my love for Cott and Broadway musicals had grown immensely. So I was starry-eyed about finally seeing him perform again. But when he started singing "Something's Coming," I nearly lost it. I didn't let myself, though, because I wanted to remain professional. Luckily, I didn't need to be calm on Twitter.
Cott sang "Something's Coming" tremendously. He conveyed the perfect amounts of optimism, hope, and anticipation, and his performance made me enjoy the song more than I usually do. The highlight of his singing performance, however had to be "Maria." I'd heard how phenomenal he sang the song when he did the West Side Story concert last year at Washington D.C.'s Kennedy Center, and I had seen videos on YouTube of him performing the song at solo shows. But hearing Cott sing "Maria" live was easily my favorite moment of the afternoon.
I wasn't only impressed by "Maria" the song but also the actress who portrays her, Mikaela Bennett. I know I hadn't seen a live production of West Side Story prior to this, but I've listened to my fair share of Marias: in the movie, on Glee, on the Broadway cast recordings, by Broadway performers doing special shows or performances. Out of all of them, Bennett is the best Maria I've ever heard.
I'm not used to Maria being played by someone with such a high vocal range, but I have no complaints about Bennett, a lovely and impressive soprano. Her voice is strikingly powerful, and she sings effortlessly. She and Cott make for a better Tony and Maria duo than anyone I could've ever imagined.

The thing I appreciated more than anticipated were the orchestrations. Being played by a 43-piece orchestra, those talented musicians gave me a whole new appreciation for Leonard Bernstein's iconic, powerful score. I have had random orchestrations from the show stuck in my head for a week, and that's never happened to me before after watching the film or listening to other recordings. The lighting design was well done, too, and I especially liked what was done for "Dance in the Gym." The mix of colored lighting and the silhouette in the background created a fitting mood for the scene.

I loved West Side Story prior to seeing this production, so I already loved various scenes and songs in the show. But two of the scenes I enjoyed more than expected were "Somewhere," "One Hand, One Heart," and "Gee, Officer Krupke." Aside from hearing the exceptionally talented singing of Cott and Bennett that work so well together, "Somewhere" also showcased beautiful ballet and partner work from ensemble members. During the wedding vows in "One Hand, One Heart," Maria says the vows in Spanish; it's such a minute yet significant detail. In "Gee, Officer Krupke," the Jets play lively characters and really show off their charisma.

Following the show, all of the social media insiders got to go on the stage and do a backstage tour. We didn't see or run into any of the cast, but it was still really cool to experience. I'd never stood on a professional stage before, and being on stage at Lyric Opera was really something, because the view is STUNNING.

Seeing the sets up close was, of course, amazing, because I got to see details that most people aren't able to see from their seats, such as the glasses and food on the counter in Doc's.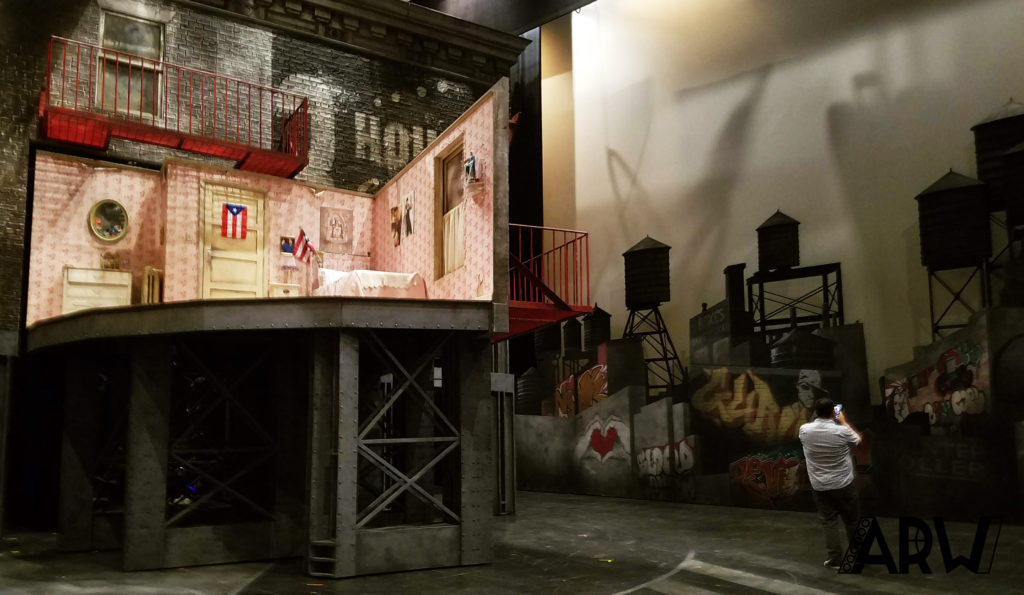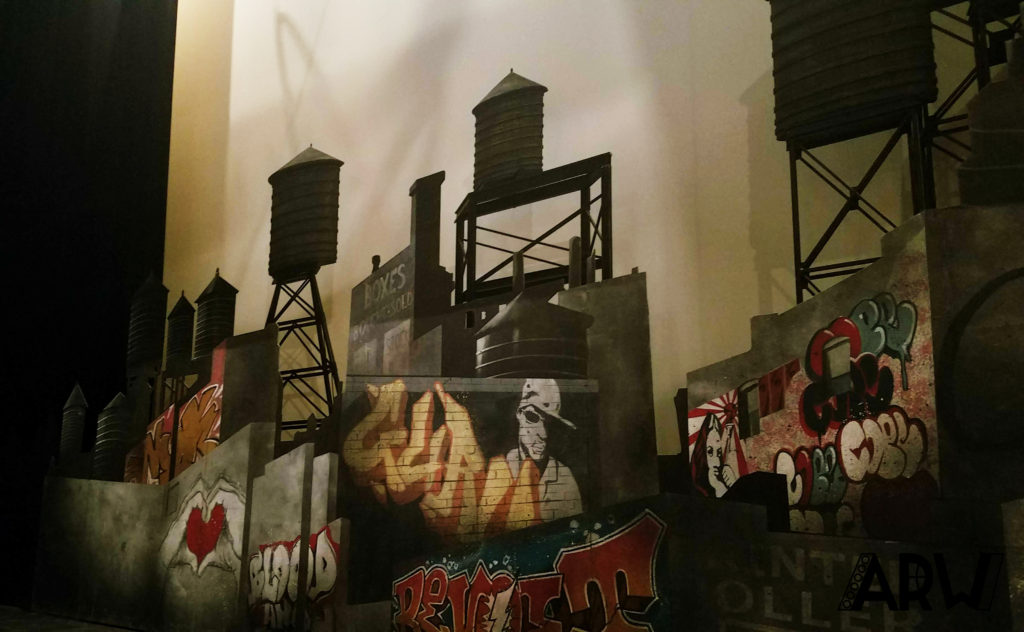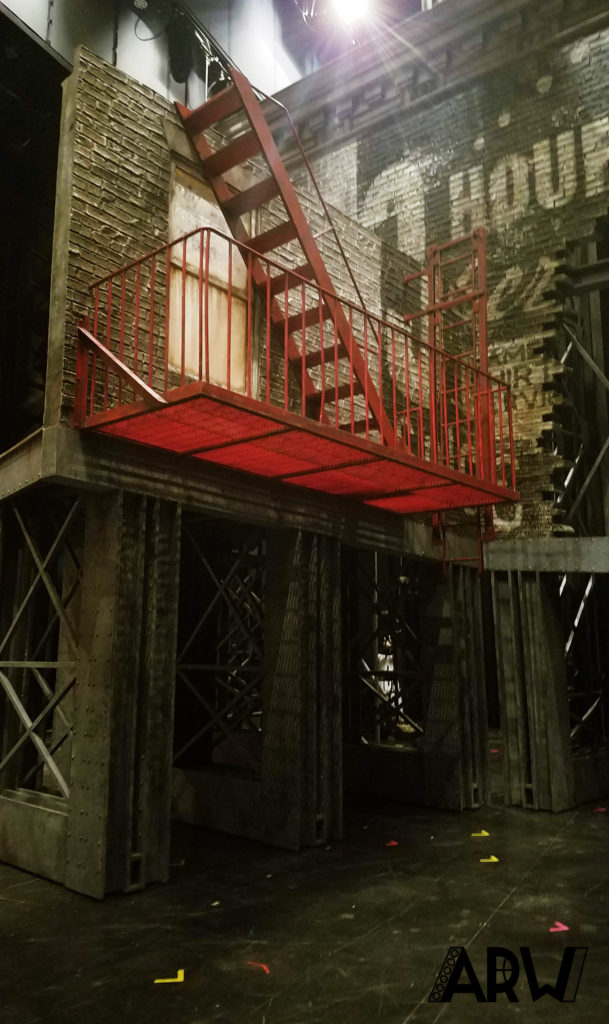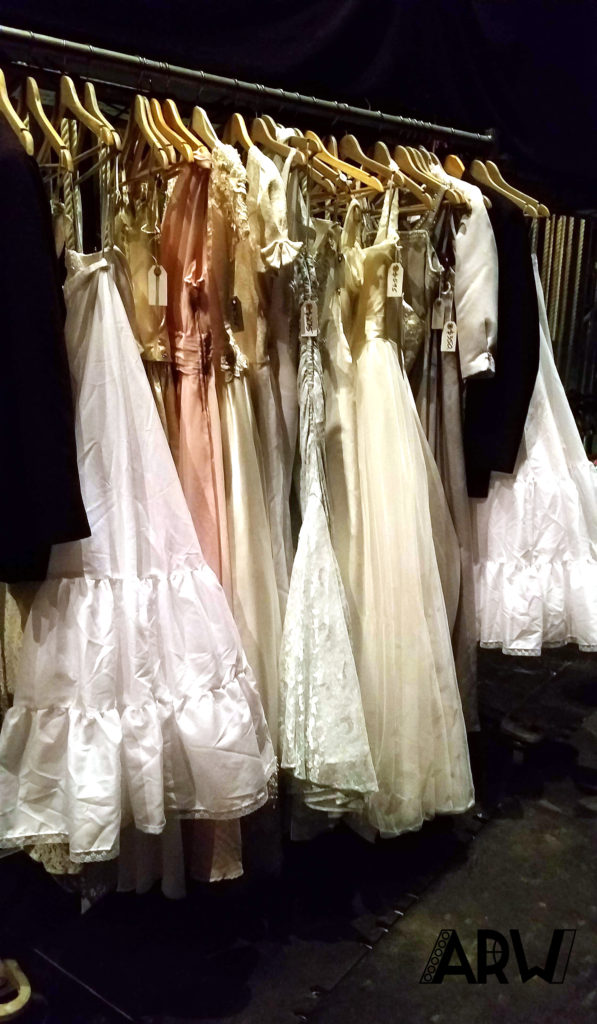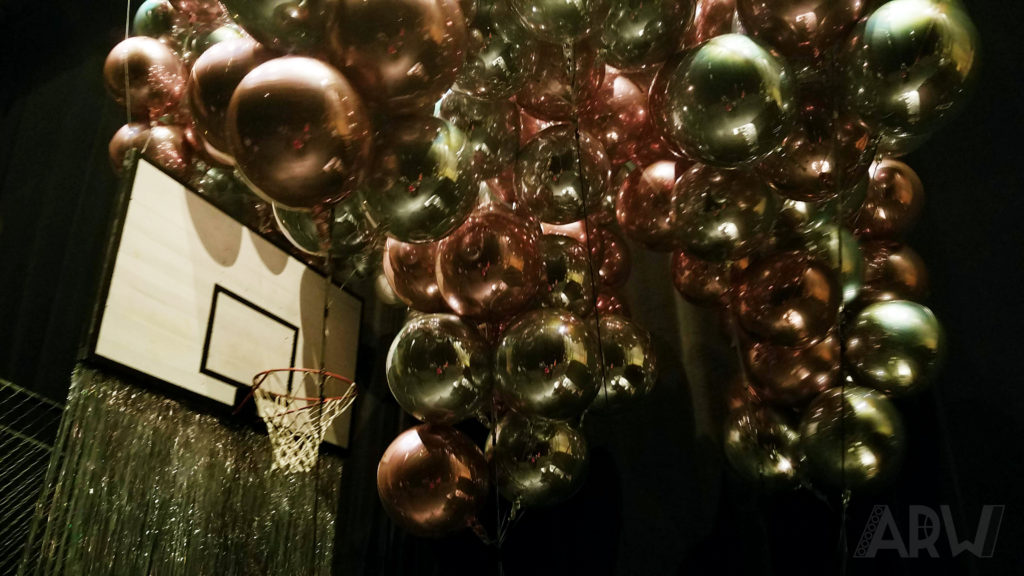 After exploring the stage and sets, we visited the different backstage levels: the rehearsal space, the wig room, the wardrobe room, the storage space with set pieces. I learned about how wigs are made in-house using a very intricate process—not that there are many or intricate ones used in West Side Story. I discovered that there are elevators the size of freight trucks, which Lyric Opera uses to transport set pieces to and from the rehearsal space and main stage level. I also heard from staff about how Lyric Opera often makes—and prefers to make—their own costumes for their opera productions.

This first look and behind-the-scenes experience made me even more excited to see the show again, and I'm incredibly grateful for the opportunity I was given.
Lyric Opera's production of West Side Story is a fantastic production that features immense talent, running until June 2. Visit WestSideStoryChicago.com to purchase tickets, and use promo code "WSSinsider" to get 20 percent off tickets for all Monday through Friday performances.