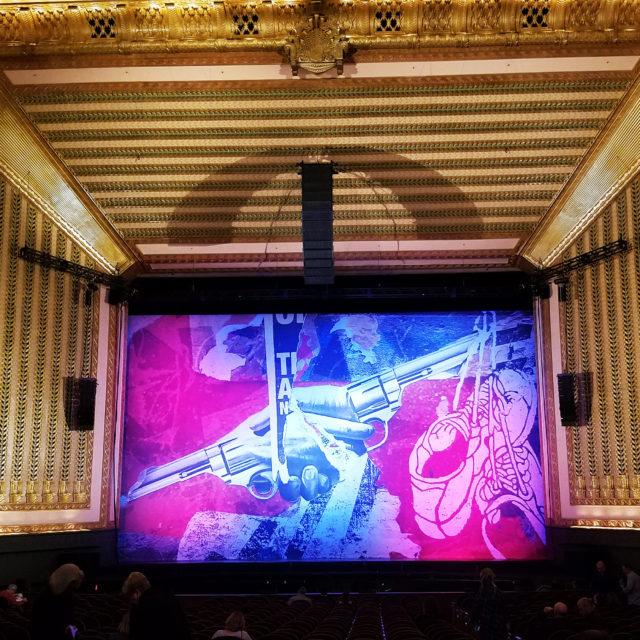 In 1957, the world was introduced to a retelling of the Shakespeare classic Romeo and Juliet that would eventually become a classic musical, West Side Story. Set in the Upper West Side of Manhattan, a romance buds between Tony and Maria, which is a problem given their ties to opposing gangs: the Jets, a caucasian gang, and the Sharks, the Puerto Rican gang. Tony is a former leader of the Jets and Maria is the sister of the Sharks' leader, so their relationship increases the tensions between the two gangs.
Over half a century has passed since West Side Story premiered. It has gone on to be a beloved film, has had numerous national tours, has had a couple of West End productions, and has been revived on Broadway several times. Oh, and it's getting a film remake headed by Stephen Spielberg. Knowing this, it's clear how West Side Story resonates with people across time and continues to do so.
The first time I was truly exposed to West Side Story was in 2011 when it was the featured musical in FOX's television show Glee. Not long after that, my twin sister, Amanda, was gifted a DVD copy of the movie by our brother, Winston. I've been a fan of the musical ever since—long before I became legitimately interested in Broadway musicals. But, in all those years, I had never watched a live production of the show. Until earlier this month, that is.
On May 2, I had the opportunity to attend the final dress rehearsal of Lyric Opera's production of West Side Story as a social media insider. Although it wasn't an official production of the show, it was still my first time seeing the show live, and I was blown away. I returned to Lyric Opera a week later to see an official performance of the show, which I had bought tickets for in January. Despite knowing everything and already having a familiarity with this particular production, I was just as enamored by the performance as I was the first time.
On Friday, I'll be back at Lyric Opera to see the show another time—this time with my mom as a late Mother's Day celebration. If you're in Chicago or can get to the city, then you should, too, and here's why:
Limited Engagement Production
The worst thing about Lyric Opera's production of West Side Story is that it's a limited engagement. Its run lasts just over a month, ending June 2. It's Lyric's annual Broadway production, and this specific production will cease to continue come that Sunday around 4 p.m. Every time I see an advertisement stating how it "MUST CLOSE JUNE 2," I feel like I'm being personally attacked. That said, if you're even remotely interested in seeing this production, this is your only chance, so you better not throw away your shot. (Shoutout to whomever understands the musical theater reference I made!)
Live Theater
Even if you've already seen the 1961 film and are satisfied with only ever seeing that version, you should still watch Lyric Opera's production, because there's nothing quite like live theater. West Side Story is originally a stage musical, and it should be experienced as such. There are things you can't experience or capture through film but only with your own senses, live and in person.
Grand-Scale Production
One of the unique things about this musical production is that it takes place in an opera house, specifically the 3,500-seat Lyric Opera House. Before ever seeing this production, I wouldn't have thought that made a difference, but now I know it's a significant one. I've been in two Broadway theaters and am familiar with nearly all the Broadway theaters in downtown Chicago, but none of them are as big as Lyric Opera nor are they constructed in the same manner. The stage, in particular, is bigger than most stages that hold Broadway-caliber musical productions, so there's more space to work with. This has allowed for a larger-than-usual production that you won't get anywhere else—like from the upcoming late 2019 Broadway revival. The size of the performing space is actually something some of the cast members addressed in an interview with WTTW.
Relevance and Timeliness
West Side Story may have come out over half a century ago, but it's just as relevant and timely now as it was then. The story is driven by racial conflict, which leads to violence. Unfortunately, these are are pertinent concerns in not just the show and in our current reality, too. You watch these talented perform tell a fictitious story, but it's too easy to relate it to the present day and current happenings.To see such problems played out on stage is powerful and sends an important message to the audience. In fact, while it's never explicitly stated, this particular production is set in a more modern time as opposed to in the 1950s. You can see this through some of the wardrobe choices and in the way Maria's bedroom is decorated.
Classic Musical
In school, students read Shakespeare and other classic literature like The Great Gatsby and The Scarlet Letter because of their importance and influence to literature as a whole. West Side Story has had that same influence on musical theater. It's a classic, emotional story that brilliantly meshes dialogue, music, song, and dance, so missing out on it is like missing out on an important part of musical theater history. It's simply a marvelous example of what a Broadway musical should be.
The Music
Whether it is the orchestrations on their own or the songs as a whole, the music is iconic, unforgettable, and transcendent. Leonard Bernstein is a musical genius, and it shows through the score he created for West Side Story. The music sets up every scene perfectly and sticks with you. The songs will be stuck in your head for days, and you'll catch yourself with random orchestrations running through your mind.
Corey Cott
If you know me, then you (should) know I LOVE Corey Cott. He is my absolute favorite Broadway performer, and I wouldn't have ever become a Broadway fan if not for him. He's a tremendous performer, his voice is amazing, and his acting is superb. So it's no wonder that he's PHENOMENAL as Tony in West Side Story at Lyric Opera. He portrays the perfect mix of hope, boyish charm, innocence, and naivety that is expected of anyone who plays Tony. Also, his rendition of "Maria" is perfection. It makes me cry and wish my name was "Maria." I'm obviously biased, but I don't think there will ever be a Tony better than Corey.
Mikaela Bennett
If you know musical theater, but you don't know Mikaela Bennett yet, then you better put her on your radar, because she is a STAR. She is, hands down, the best Maria I've ever heard. I can't say I'm surprised, though; she graduated from Julliard! A lovely soprano, her voice is so beautiful and powerful. The first time I heard her sing was when she sang "Tonight" with Corey Cott on WGN Morning News, and I was immediately in awe of how effortlessly high she could sing. It is an absolute pleasure to see her perform live, and I love the emotion she puts into the character. I look forward to following her career, because there are surely great things to come.
The 43-Piece Orchestra
West Side Story's score is undoubtedly iconic, and it has never sounded as wonderful as it does than when it comes from the 43-piece orchestra that performs it for Lyric Opera's production. It's larger than the orchestra typically used in Broadway productions. It has to be given the size of the venue, and it's huge difference maker. The music is powerful, but it feels like it reaches a whole new level of power and transcendence in this show with a large, talented orchestra making the score a reality.
Original Choreography
The choreography in this production of West Side Story is, by far, one of the best things about it. Julio Monge, the production's choreographer, has recreated the original choreography, and it is STUNNING. Not even a minute into my first time seeing the show, I was already in awe of it, and my love for the choreography only grew from there. The choreography drives the story, and it has to be great for that to be done successfully. The choreography is so technical but has such emotion and purpose behind it, which is what makes it so wonderful.
The Versatile Cast
There is not a single weak performance in this production. Amanda Castro brings the feisty nature expected in Anita and performs intricate choreography flawlessly. Brett Thiele has a great voice and does well with the leadership role required of Riff. Manuel Stark Santos is a strong, protective Bernardo. Adam Soniak brings an intriguing anger and insecurity to Action. The ensemble members that make up the Jets, the Sharks, and the women associated with each gang bring so much to their characters, their songs, and their choreography.
The Lighting Design
If you're like me, lighting design is one of the components of live theater that can be—unintentionally—overlooked. It's strange really, because I'm otherwise an observant person, but there's just so much to take in with musical theater. That said it takes a truly effective and entrancing lighting design for me to gush over it, and Lyric Opera's West Side Story is one of those times. The lighting design is vibrant and those a superb job at setting the tone. I'm particularly fond of the lighting for "Dance at the Gym" and how it progresses to help move the scene along.
---
Don't miss out on this spectacular production of West Side Story at Lyric Opera of Chicago, which runs until June 2! Visit WestSideStoryChicago.com to purchase tickets, and use promo code "WSSinsider" to get 20 percent off tickets for all Monday through Friday performances.