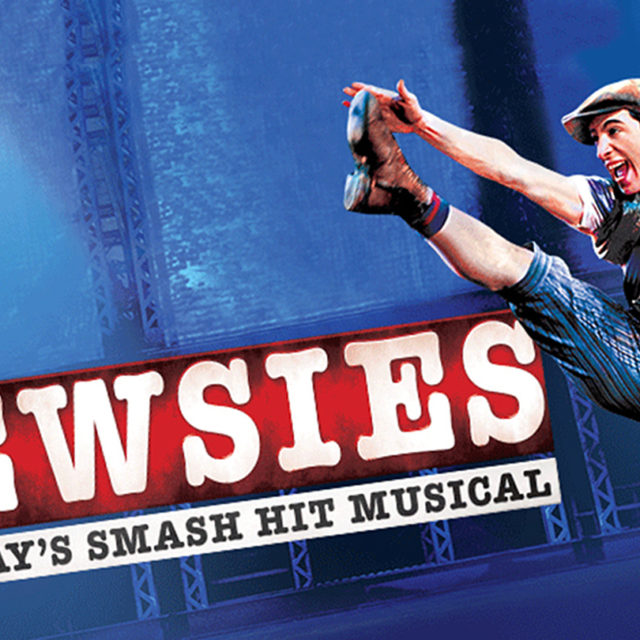 Musical Monday is a Monday blog post series where I choose a musical to highlight. I will discuss the show, my feelings about it, and my favorites from it. This post may contain spoilers.
About the Musical
Newsies is a Disney musical based Disney's 1992 film of the same name, which is based on the real life newsboys' strike of 1899. When newspaper mogul Joseph Pulitzer raises the price of newspapers, the newsies are upset about the surprise increase and decide to go on strike. Led by Jack Kelly and with the help of reporter Katherine Plumber, the newsboys fight for their rights, for their voices to be heard and valued, and for all working kids in New York to have better lives.
Newsies was composed by Alan Menken—who is best known for his work on Aladdin, Beauty and the Beast, The Little Mermaid, and many other Disney works—with a book by Harvey Fierstein and lyrics by Jack Feldman. Directed by Jeff Calhoun and choreographed by Christopher Gattelli, Newsies premiered on September 25, 2011 at Paper Mill Playhouse in Millburn, New Jersey. It transferred to Broadway for the 2011-2012 season, officially opening on March 29, 2012. Initially a limited engagement, Newsies's Broadway run became an open-ended engagement less than two months after opening. It was on Broadway for more than two years, closing on August 24, 2014 with a national tour opening in the fall of the same year.
The musical won the 2012 Tony Award for "Best Choreography" and "Best Original Score." It was also nominated for "Best Musical," "Best Book of a Musical," "Best Direction of a Musical," "Best Orchestrations," and "Best Scenic Design of a Musical." Jeremy Jordan received a Tony nomination for "Best Performance by a Leading Actor in a Musical" for his portrayal of Jack Kelly.
The musical won the 2012 Tony Award for "Best Choreography" and "Best Original Score." It was also nominated for "Best Musical," "Best Book of a Musical," "Best Direction of a Musical," "Best Orchestrations," and "Best Scenic Design of a Musical." Jeremy Jordan received a Tony nomination for "Best Performance by a Leading Actor in a Musical" for his portrayal of Jack Kelly.
When I've Seen It
I wanted to see Newsies when it was on Broadway after learning Evan Kasprzak, one of my favorite dancers, was in the show. Despite its popularity and long run, I never got to see the Broadway production in New York or while it had a national tour. Newsies actually came to Chicago twice, but I didn't know about national tours or pay much attention to Broadway in Chicago back then. It sucks because I missed out on seeing a tremendous show in person, and I also missed out on seeing Corey Cott in his first Broadway show. But it's not a total loss thanks to the live recording of Newsies.
I first watched the live recording of Newsies in August 2017 when Fathom Events showed it in movie theaters. I knew just about nothing about it going in, but I ended up loving it. I was in New York when I watched it, so my twin sister, Amanda, didn't get to watch it. Knowing this when I came home after my summer in New York, I bought the digital version of the show on Amazon so that Amanda could watch it, too. Since then, I've watched Newsies too many times to count. I even watched the show when it premiered on Freeform earlier this month despite already having the digital copy.
While I may not have been able to watch the Broadway production live, I have seen two regional productions of Newsies.
In December 2017, my best friend, Carly, bought tickets for Newsies at Marriott Theatre in Lincolnshire, Illinois, as a Christmas gift. I especially wanted to see this production, because Marriott has a 360-degree stage, so there's seating all around the stage. This intrigued me, and I wanted to see what a show I had come to love dearly would be like in such a setup. It wasn't anywhere near as good as the Broadway production, which I didn't expect it to be. The theater is small, so there was a lot to do within minimal space, making it a tad crowded. But Marriott's production was still well done with all the high energy you expect out of this show.
Most recently, I saw a production of Newsies at Paramount Theatre in Aurora, Illinois. It was well done, and I preferred it to the one I saw at Marriott. The set includes skyscrapers and urban scenery that really provide good Lower Manhattan vibes. The choreography is tough and intricate—albeit a tad much at times. But the performances are great and feature talented singers and dancers.
What I Like About It
There's a line in the show where newspaper reporter Katherine Plumber is talking to the newsies at the lodge house. She has just heard about the strike and says to the newsies, "So I guess you'd say you're a couple of Davids looking to take on Goliath." Newsies is an underdog story, and, albeit a common plot, it makes for a compelling story. These kids have been abused, but they realize that, despite their age, they have power. They have voices, and their voices matter even if they aren't older or have years of experience like working adults do.
If I had to pick one thing that I like best about Newsies, I'd probably pick the dancing. There's a reason the Broadway production won a Tony Award for "Best Choreography." When I watched the musical for the first time, I was in absolute awe of the choreography. All you have to do is watch "Seize the Day," and you'll understand why. The choreography is so technical and advanced. It requires immense amounts of talent, strength, and endurance, and the ensemble performs it all FLAWLESSLY. There's also a very well-executed tap dance number to open the second act, and it has reinforced my opinion that tap is one of the best—and most underrated—genres of dance.
I wouldn't love Newsies as much, though, if not for Jeremy Jordan. This show introduced me to him, and he's now one of my favorite performers. Just little to his rendition of "Santa Fe," and you'll understand why.
Favorite Characters
Jack Kelly
A natural leader, Jack is the leader of the newsboys union. He's confident, charismatic, charming, smart, and sometimes arrogant. But he's also a truly caring person who wants the best for all his friends and will make tough choices to ensure they're well off.
Katherine Plumber
As a fellow female journalist, how could Katherine Plumber not be one of my favorite characters? She embodies the idea of girl power and is determined to prove that girls can be reporters, too. She doesn't want to be confined to covering entertainment; she wants to cover hard news and tough stories. She wants to write stories that make a difference. While society may not be on her side, she isn't going to quit.
Favorite Songs
My favorite songs from Newsies changes all the time, but the following three tend to be mainstays for favorite Newsies songs.
"Carrying the Banner"
One of the first songs in the show, "Carrying the Banner" showcases various newsies and their different personalities. You get an idea of how they interact with one another and what their relationships are like. It's a fun, great introduction to these characters.
Katherine's solo song, I, as a writer, relate to aspects of this greatly. In a general sense, "Watch What Happens" fast-paced song about what it's like trying to write an article. Katherine is starting to write her article about the strike and is having a tough time finding the right words and a good rhythm. She has never written such a serious story before, but she knows how important this can be not only for her but for the newsies, too. She keeps this idea in mind to help motivate her as she writes.
The act one finale, "Santa Fe" is Jack's solo. The strike has been tough to handle, and, as the leader, he's feeling a lot of pressure. But it's becoming too much and he just wants to get out and start somewhere new (Santa Fe). It's a powerful song that makes for a stellar performance.