In December, I took a four-day trip to New York with some of my family. One of the things I was most looking forward to was getting to eat a variety of delicious foods. Whether it was something I was eating again for the first time in over two years or something brand new, food was a definite highlight of my trip.
Maison Kayser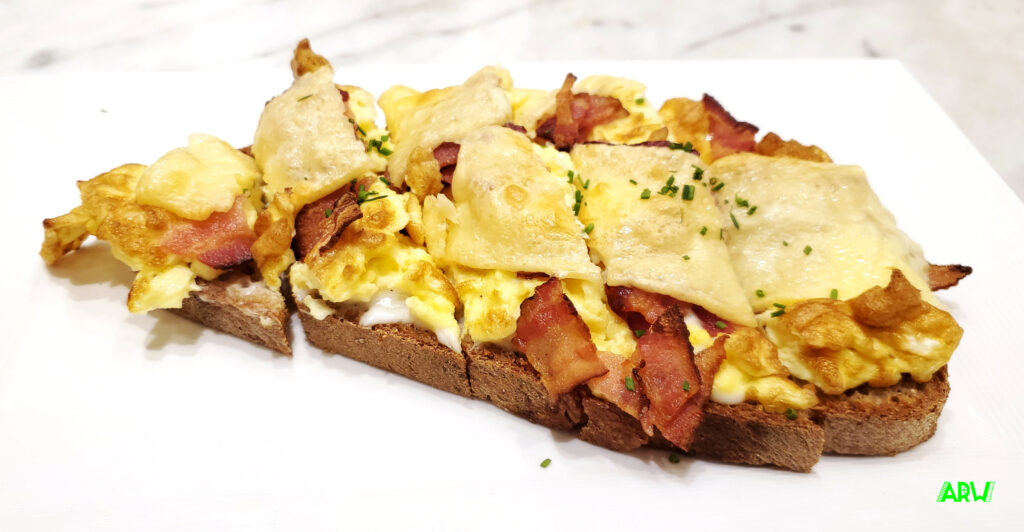 Bacon and egg open-faced sandwich
This was my first meal upon arriving in New York, and it was in the afternoon. That said, the restaurant had already seen plenty of customers by then but was still filled by the time I got there.
I had traveled to the city with my twin sister, Amanda; my mom; and one of my titas. We were meeting up with my tita who lives in NYC, another tita and my two titos who were coming in by bus. Once everyone had made it, my tita who lives in New York suggested Maison Kayser for brunch.
I ended up ordering the bacon and egg open-faced sandwich after considering that and the sausage and egg open-faced sandwich. It was a good thing I did, too, because they apparently were out of that. My sister, mom, and one of my uncles all ordered that and had to choose something else. In fact, that was just one of several issues my family had there. Two of my aunts ended up having to order something else as well, and they took a long time with our orders. We got half of our orders, got the other ones when the first orders were already eaten, and had one forgotten by the waiter.
In the end, it was just an unfortunate start to our trip. The sandwich was good with fresh, quality ingredients but not good enough for me to want to go back and pay nearly $16. After all the problems, though, our entire meal was thankfully on the house.
Feinstein's/54 Below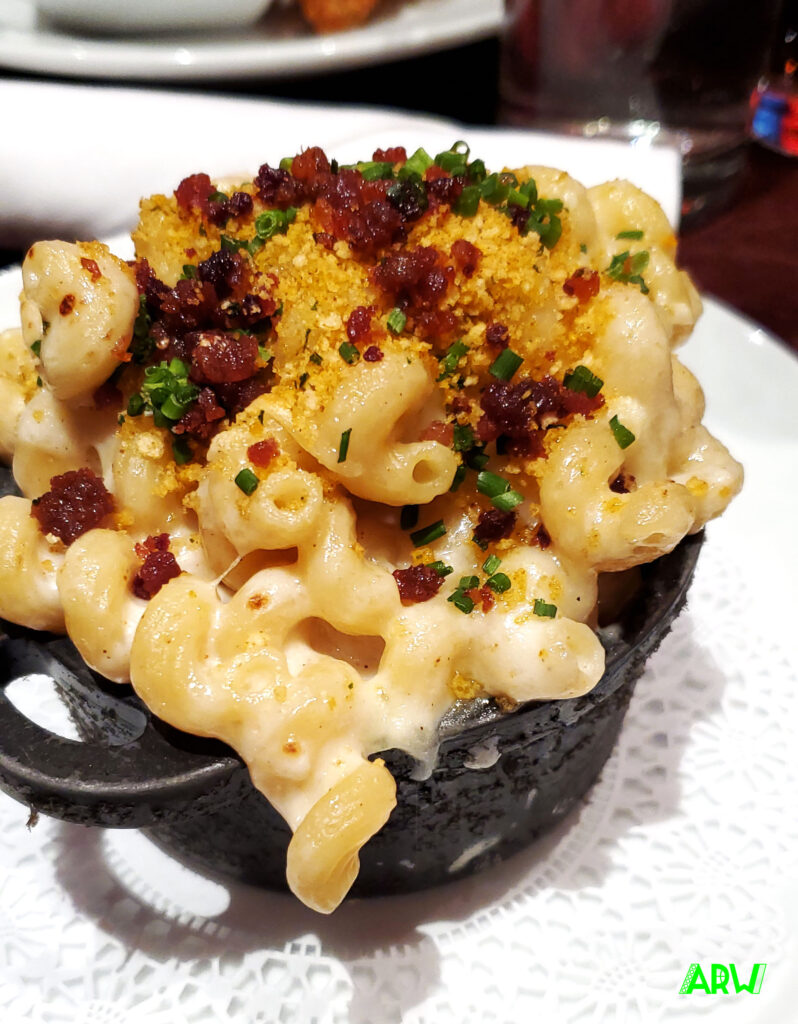 Truffle bacon mac and cheese
When I went to 54 Below to watch "A Broadway Breakup Playlist," I ordered the truffle bacon mac and cheese to enjoy during the show for dinner and to help fulfill my $25 food and beverage minimum. With a 9:30 p.m. showtime, I knew I wanted something that wasn't too heavy but was still filling, and the mac and cheese ended up being the perfect choice for that.
It wasn't the best mac and cheese I've had, and I honestly expected it to taste better. But it still tasted good. I could tell it was a quality entree, and there bacon provided some nice contrast. I would've liked it to be a little cheesier, though, and think breadcrumbs would've been a nice touch to complement the creamy, tenderness of the dish. At $13, it was a little pricey but a fair price for a cabaret club despite the smaller size of the meal.
Melt Shop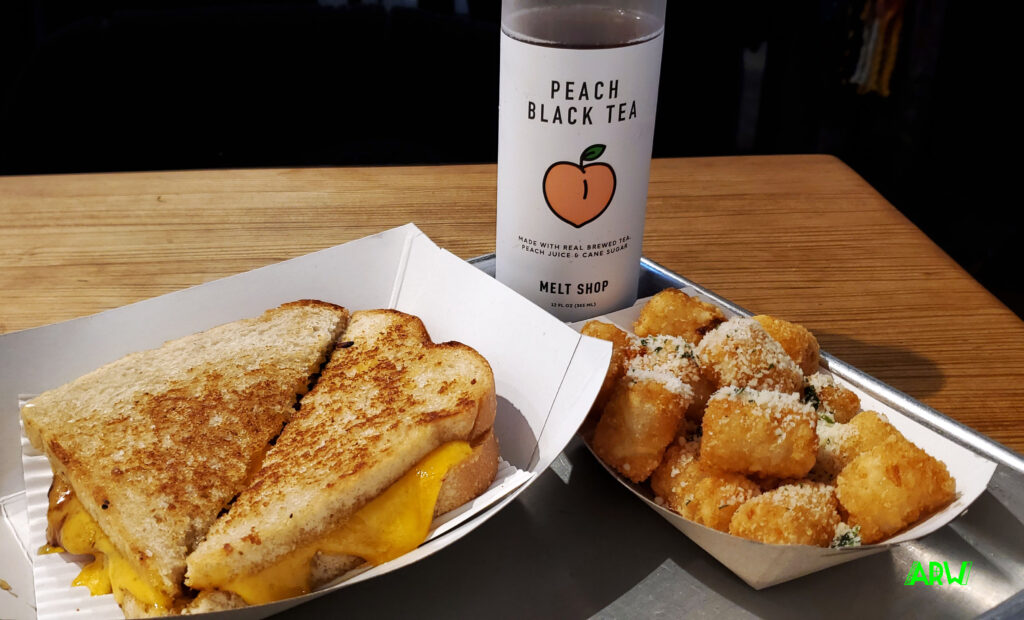 Maple bacon grilled cheese and shop tots
When I lived in New York for a summer, Melt Shop easily became one of my favorite places for lunch. It has the best grilled cheese sandwiches I've ever had. Grilled cheese is a simple meal that can be made easily and quickly, but quality ingredients make all the difference.
I had my favorite from there, the maple bacon grilled cheese. The combination of cheddar cheese with the sharp brick spread melts and melds together nicely, providing you with the ooey gooey goodness you crave from grilled cheese. The maple glazed bacon has strong, legitimate maple flavor that provides a tremendous sweet contrast to the cheese.
I also had to get the shop tots, which are tater tots sprinkled with parmesan cheese. Tater tots are so easy to mess up, but Melt Shop's tots have been perfect every time I've had them! They are cooked perfectly: nice and crispy on the outside without being overdone with a soft but firm potatoey inside.
Schmackary's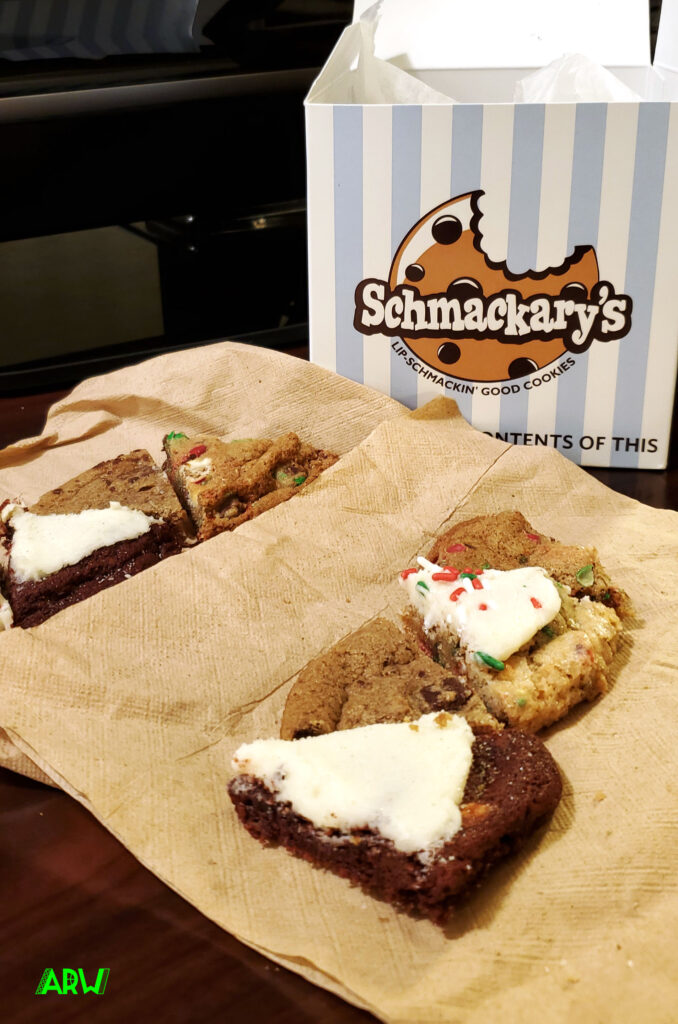 Chocolate chunk, funfetti, red velvet, and super "C" cookies
Schmackary's is a bakery in Hell's Kitchen/the Theater District that primarily sells cookies. I discovered it on social media when I lived in New York two years ago and found out it was popular with the Broadway community. The first time I went was on my walk home from work, and I got funfetti and cookies and cream. I loved the fun flavors they had and have been wanting to go back to try more of their flavors.
This time, I got the funfetti again and also got the traditional chocolate chunk, red velvet, and the super "C" (chocolate chunks, colored chocolate candies, and white chocolate). Each one was firm but nice and chewy. Having funfetti again, which has vanilla cream cheese frosting and sprinkles, solidified it as a favorite, and I loved the addition of sea salt for the chocolate chunk cookie. Red velvet was a nice surprise as well, because I expected it to be plain, but it had semi-sweet and white chocolate bits in it.
Sticky's Finger Joint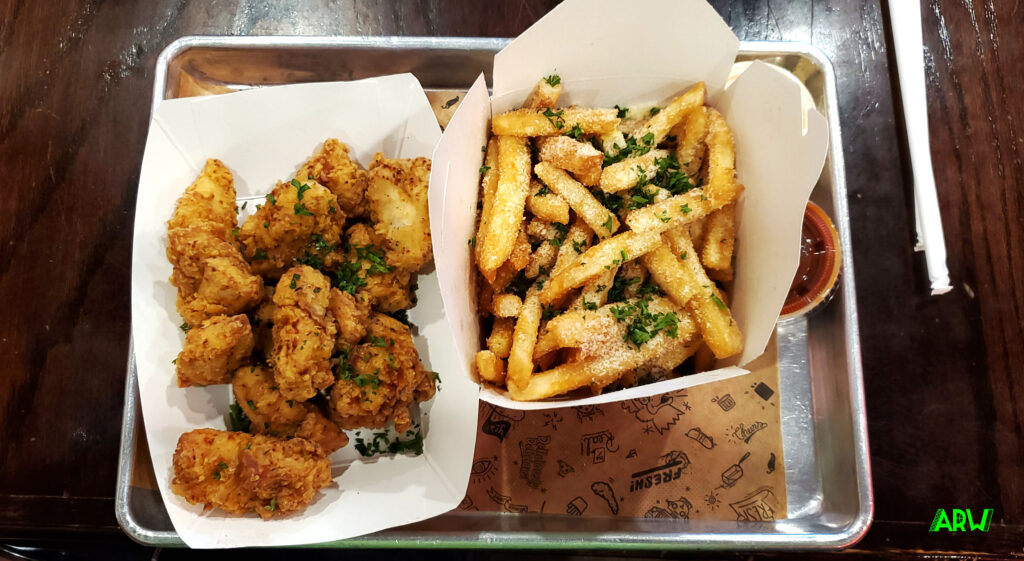 Chicken poppers with Sticky's sauce and sassy BBQ sauce and truffle fries
Another NYC favorite of mine, Sticky's is a fast-service restaurant that focuses on chicken products. I had told Amanda about Sticky's while I was in New York, because chicken fingers/tenders/nuggets are one of her favorite meals. That said, I promised her I'd take her there whenever we went back to New York.
We shared chicken poppers (think chicken bites but good-sized pieces that actually have chicken and not just breading) and truffle fries. To go with the chicken, I got sassy BBQ sauce and Sticky's sauce, which is a white barbecue sauce. I hadn't had the Sticky's sauce before but liked it. The chicken was fresh and flavorful, and the fries were cooked perfectly. The addition of truffle salt and parmesan cheese added a nice touch that took the fries to a higher level than you'd expect from a fast-service place.
Posh Pop Bakeshop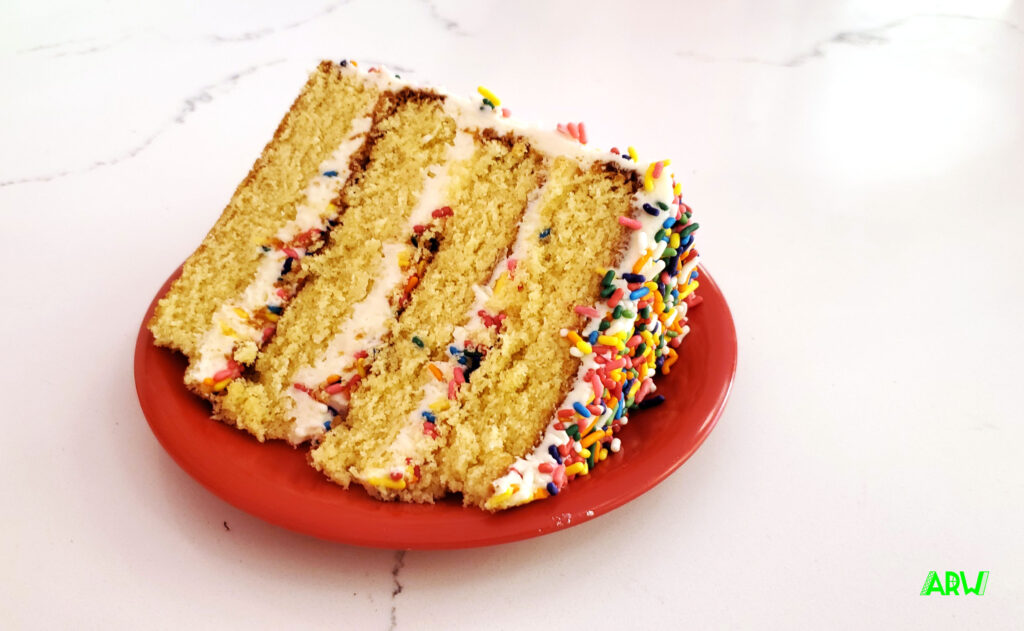 Funfetti cake slice
To be completely honest, Amanda and I only went to this bakery, which I found on Instagram, because its aesthetic of pink and floral suits her perfectly. But we also loved desserts, so neither of us had a problem with going here.
Posh Pop is actually a gluten-free bakery, and we've never been to one. So it was nice to go and try it. I was in the mood for cake and hoped to get a slice of their cookies and cream cake, because I love all things Oreo/cookies and cream. Unfortunately, that cake wasn't available the day we went, but it was okay. I opted for a slice of the funfetti cake instead.
I was a bit concerned about it at first, because its texture made it look dry, but that wasn't the case at all! I could taste three different texture, but it was moist and included just the right amount of buttercream. If I didn't already know it was gluten-free, I wouldn't have known any better.
Serendipity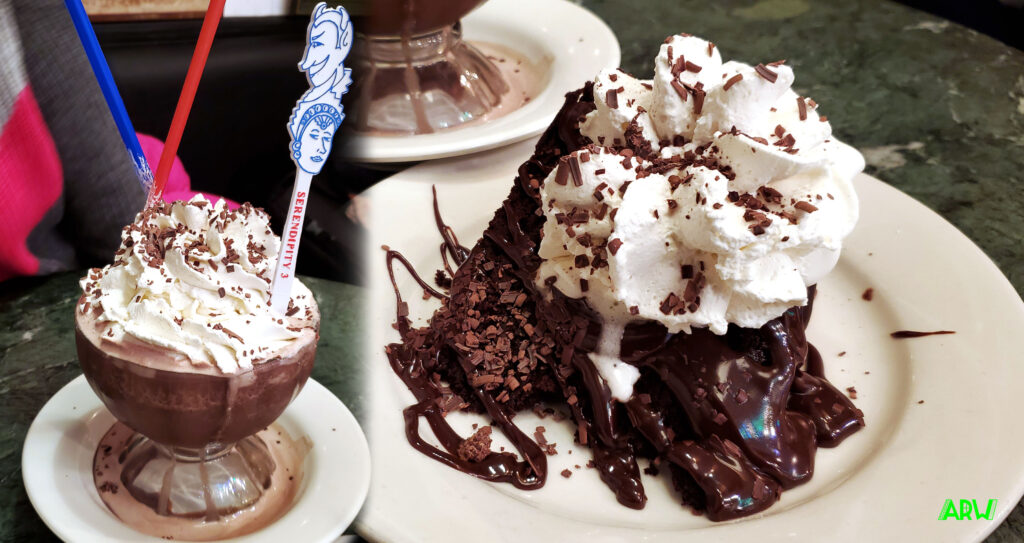 Frozen hot chocolate and chocolate blackout cake
Serendipity is famous for its frozen hot chocolate. As such, when Amanda and I realized we were right by Serendipity, we had to check it out.
With a minimum price per person, we had to get more than just the frozen hot chocolate, which we'd be sharing. We weren't in the mood for actual food, so we opted to get a slice of the chocolate blackout cake, thinking it'd be like having a deconstructed Portillo's chocolate cake shake.
We ended up looking the cake so much better than the frozen hot chocolate. In fact, we found the frozen hot chocolate to be nothing special. It just tasted like a really cold shake that had minimal chocolate flavor and a lot of whipped cream. I had never had any kind of frozen hot chocolate before then, but Amanda said she didn't taste much of a difference between it and the frozen hot chocolate you can get at Stan's Donuts in Chicago. So we were a bit disappointed. However, we loved the chocolate blackout cake and would go back there for it. The cake was moist and had the rich, chocolatey flavor you want from chocolate cake.
Dana's Bakery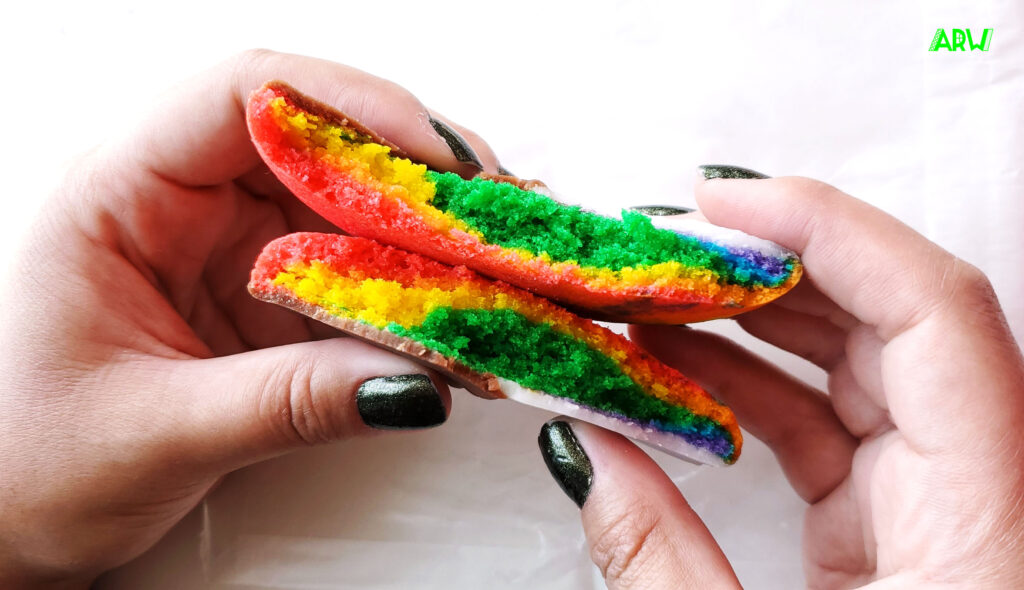 Rainbow black and white cookie
Dana's is most well-known for having fun-flavored macarons, and it was this bakery that made me a fan of the French sandwich cookies. Since I last went there, Dana's added numerous products such as the mookie, a macaron stuffed cookie. What I was most looking forward to having from there was the rainbow black and white cookie because of how aesthetically pleasing it looks. It's definitely one of those treats that was made with Instagram in mind, but it tastes good, too! It was cakey without venturing too far from a cookie texture, and the black chocolate and white icing topping were rich but not overwhelming.