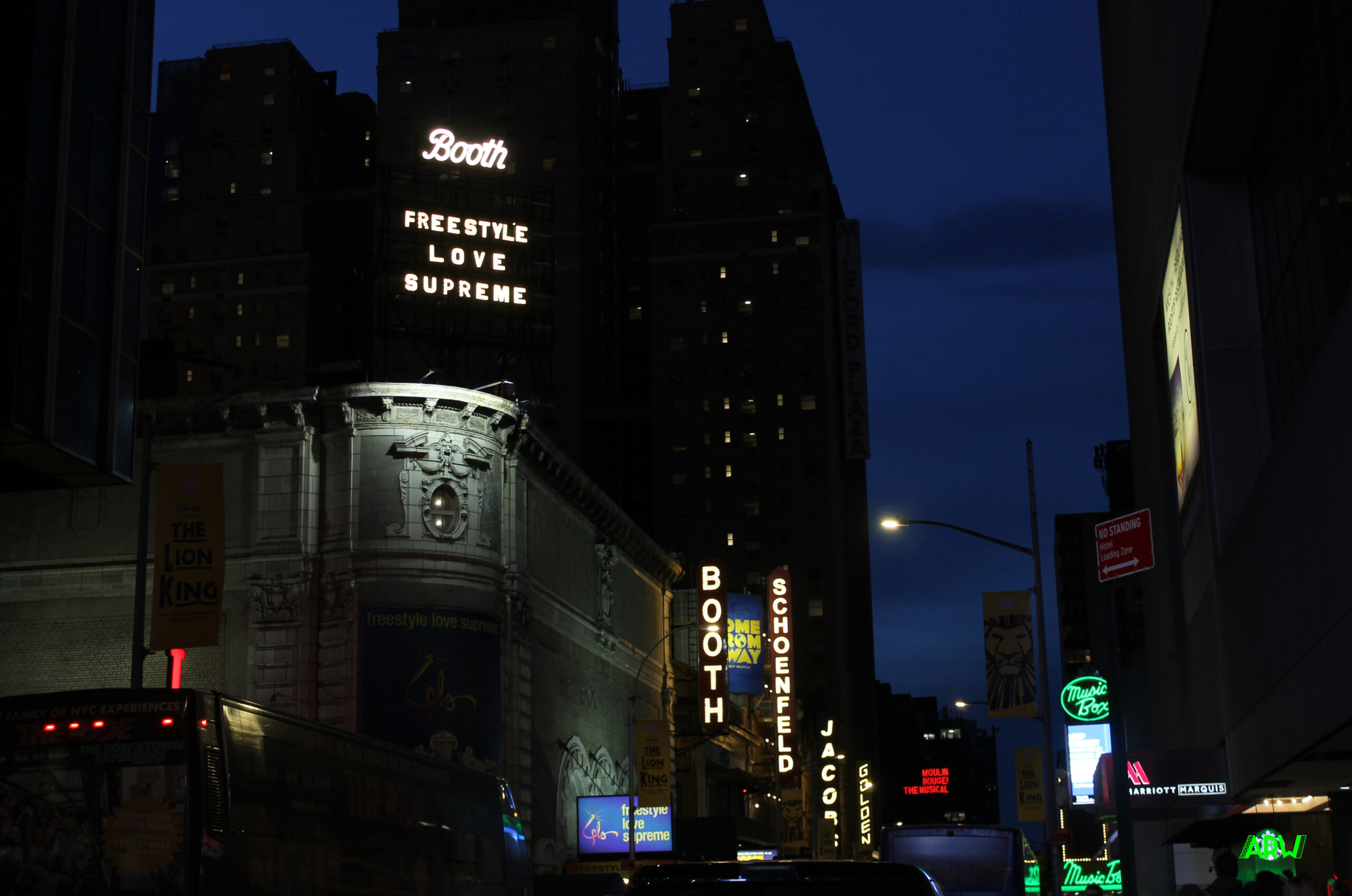 My first visit to New York City was in June 2017. I was moving to Manhattan for the summer to do an internship, and I was terrified to be someone completely new and all on my own. I ended up really enjoying my time there and didn't realize how much I loved it there until I had moved back home to the Chicago suburbs.
While in New York, I also caught the Broadway bug but toward the end of my stay there. As such, I've been clamoring to go back to New York ever since.
My return to NYC finally happened on December 8. I went there with my twin sister, my mom and one of my aunts, and we met up with two of my other aunts and my two uncles. Essentially, it was a family vacation for my mom and her siblings; my sister and I were just there, because we wanted to come along.
While there, I knew I had to see as many shows as I could, so I filled up my four-day stay there with as much musical entertainment as my schedule (and bank account) allowed. From a cabaret show to the iconic Rockettes to my beloved Broadway musicals, I was very entertained during my vacation.
A Broadway Breakup Playlist – Feinstein's/54 Below
December 8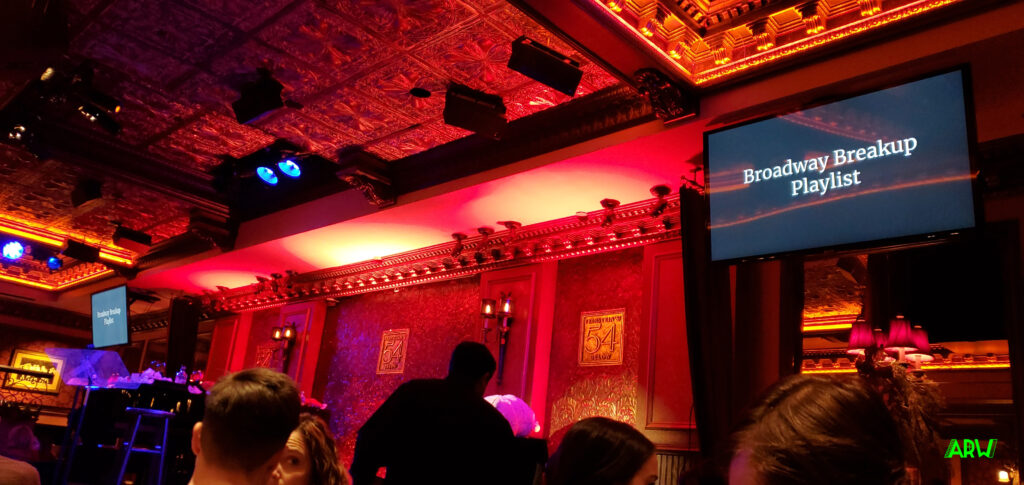 If you're a musical theatre fan who doesn't already know who Abby DePhillips is, then you better put her on your radar, because she's going to do great things. A budding producer, Abby is best known—professionally—for the concert series "Pronoun Showdown". The premise of it is the featured songs from musicals and the mainstream media with reversed pronouns: "he" becomes "she," "you" becomes "I," et cetera. In April, the series will be two years old! Since then, she has also co-produced "54 Sings Legally Blonde".
Her latest show, "A Broadway Breakup Playlist" premiered in early December at Feinstein's/54 Below. As the title suggests, the show featured breakup songs from various musicals. My favorite thing about the show was the variety of talent it showcased.
If you aren't familiar with 54 Below, it's known as "Broadway's Supper Club," so you get dinner and a cabaret show from Broadway performers in an intimate setting. So when you go to 54 Below, you already know you'll get to experience quality Broadway talent, but I was overwhelmed and excited by the amount of talent I got to experience at Abby's show. She put together a stellar cast of performers— whom so happen to be her friends—to dress up in pajamas and belt their hearts out. Not one performance disappointed, and it was a tremendous value. I left the show thinking, "Wow, Abby has such talented friends!"
As someone who's still a relatively new Broadway fan, there are many shows and songs I'm unfamiliar with. I also don't like to listen to songs from shows I haven't seen for fear of ruining the story. It was inevitable for me to hear songs I was unfamiliar with, but I enjoyed getting to experience them for the first time through a live performance as opposed to a recording. The performance featuring "Get Down" from Six by Oyoyo Joi with Morgan Harrison and JJ Neimann as the backup dancers was PHENOMENAL and made me understand the hype concerning the show.
Special shoutout to musical director Ben Rauhala as well! I got to meet him (for a second time with the first being at "Broadway Princess Party") after the show, and it was wonderful chatting with him. I also got to finally meet Abby, whom I had been following and interacting with on social media for two-plus years, and it was lovely getting to support her and go to her show.
---
Broadway Cares/Equity Fights AIDS's Red Bucket Follies – New Amsterdam Theatre
December 9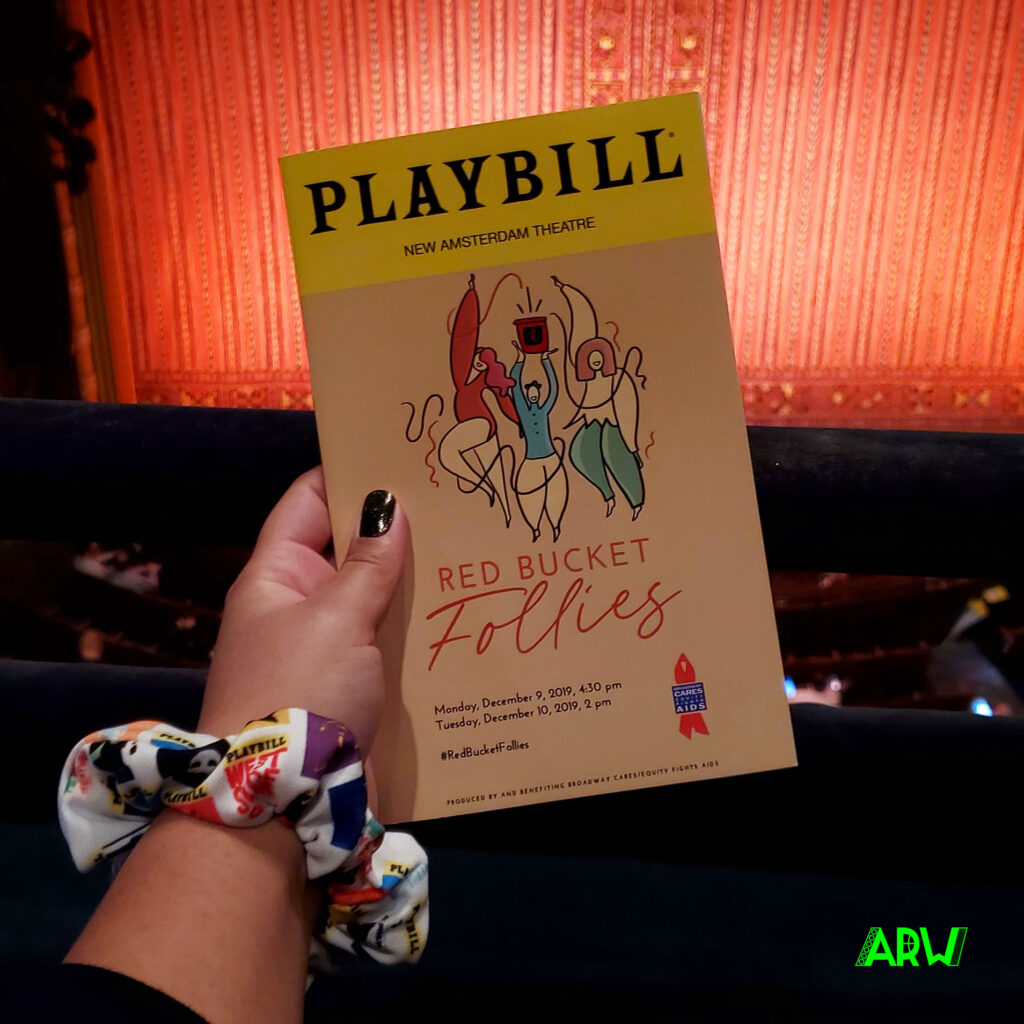 Twice a year, many Broadway and off-Broadway shows and Broadway national touring productions participate in fundraising periods where they ask audience members to donate money. Company members will stand in the lobby holding red buckets to collect donations for Broadway Cares/Equity Fights AIDS. Many shows provide incentives by offering autographed items and limited edition products in exchange for a donation of a certain amount. During the fall charity period, the shows celebrate its conclusion with "Red Bucket Follies."
At Red Bucket Follies, various shows come up with skits to perform at the show. This year's show was my first one, so I wasn't sure what to expect. But I thoroughly enjoyed it, especially the humor featured in many of the skits.
Similar to "A Broadway Breakup Playlist," I loved how Red Bucket Follies gave me the opportunity to see a lot of different performers. Considering I'd only be in the city for four days, I couldn't possibly see every show I wanted to, but Red Bucket Follies gave me a chance to see more performances. I was especially excited to see Renee Rapp, Mean Girls's Regina George, during the opening number and to witness the choreography and dancing of fellow Filipina Karla Garcia, a swing for Hamilton. My favorite number, however, was easily Chicago's skit, "What Would Fosse Do?" It featured how Chicago choreographer Bob Fosse would choreograph for other shows, and it was rather amusing.
---
The Christmas Spectacular featuring the Radio City Rockettes – Radio City Music Hall
December 9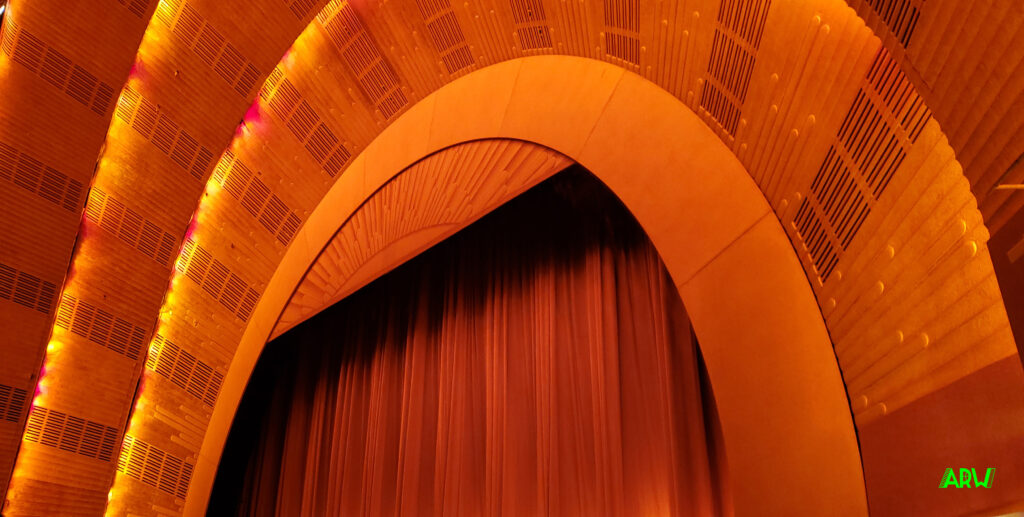 No trip to New York during Christmastime is complete without seeing The Christmas Spectacular featuring the Radio City Rockettes. Having previously worked doesn the street from Radio City Music Hall, I've passed the place many times but never actually went there. I've seen the interior while watching the Tony Awards, but it isn't until you go there yourself that you realize the sheer enormity of the place. There are multiple balconies and the orchestra seating is plentiful.
I've been to Lyric Opera of Chicago and had the fortune of going on its stage, and that place is big for a theater. In comparison to other Broadway theaters in Chicago, Lyric Opera is easily bigger. In an interview Corey Cott did as press for West Side Story, he said Lyric Opera was the biggest theater he'd performed in aside from Radio City, and that's what I thought of upon realizing the capacity of the place.
My family and I all had limited view seats in the right side of the orchestra, but I had the best view, as my seat was closest to the center. While it would've been ideal to see the stage in its entirety, I didn't miss out on much. I was still in awe of the intense technicality and flawless execution the Rockettes performed with.
I didn't really know what to expect from the show and wasn't aware of overlying Santa narrative. I just knew it featured the Rockettes, and that was enough for me to want to see it.
One of the girls casted as Clara was Elliana Walmsley from Dance Moms. As someone who has (somewhat embarrassingly) watched every episode of Dance Moms—including the latest season with none of the original dancers—I was excited by the possibility of seeing Elliana dance. I liked her dancing and loved how funny she is. I didn't end up watching her perform, which is unfortunate, but it was okay in the end, because Clara's role was much smaller than I anticipated. I already admitted I didn't know what to expect from the show, but I assumed Clara would have a larger, more-featured role with The Nutcracker being a classic Christmas story. That wasn't the case, though. That upset me, because I thought the role of Clara was deserving of more stage time.
Regardless, it was a joy to finally watch the Rockettes and see their iconic performances. It's a fun, festive show that'll really get you in the holiday mood.
---
Hadestown – Walter Kerr Theatre
December 10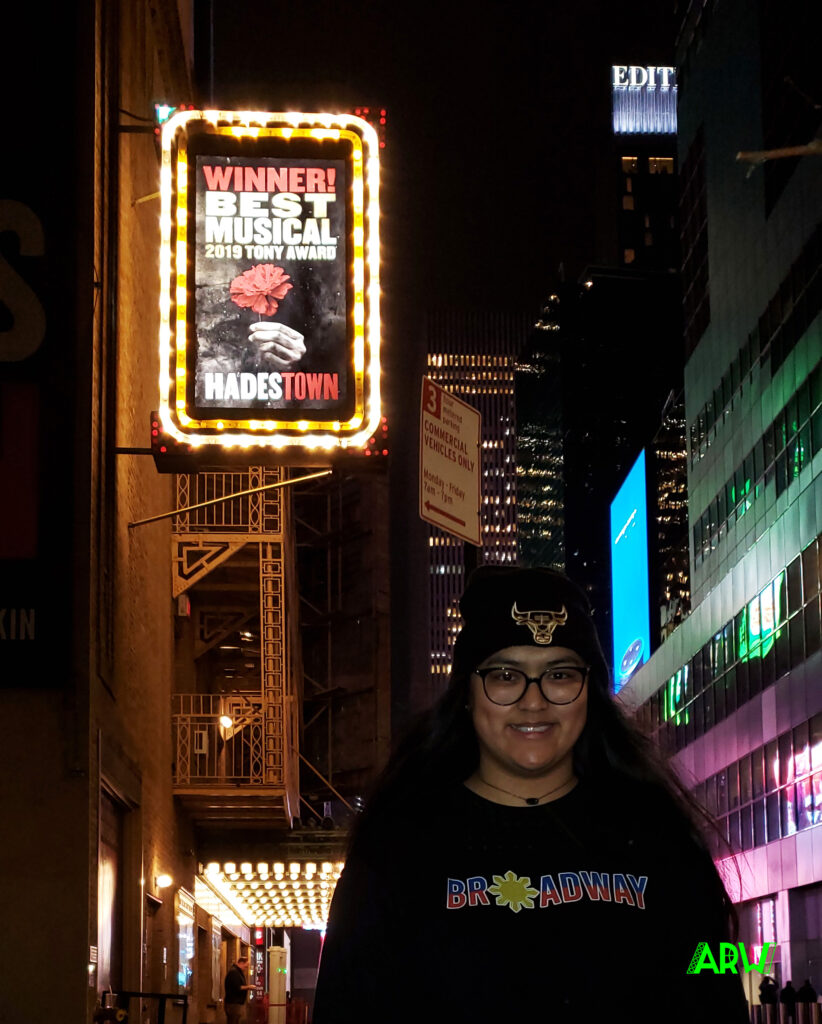 The only musical my twin sister, Amanda, and I bought prior to arriving in New York was West Side Story. We knew we wanted to see other shows but were willing to wait until getting to the city to figure it out. First, we were depending on ticket lotteries to see if we could get any cheap tickets. We lost every lottery we entered and contemplated how to pick a show. We considered going to the tckts booth in Times Square but opted to see what was available on StubHub. Hadestown was at the top of our list of musicals to see, so we checked out what was available for Tuesday night and found tickets that were too good a value to pass up. We had a great view from the far left side of the mezzanine in the second-to-last row.
While I have seen productions of Tony Award-winning Best Musicals (Dear Evan Hansen and Hamilton), seeing a production of a Tony Award-winning Best Musical ON BROADWAY was awesome. I knew the general concept of Hadestown—that it's based on the Greek myth of Orpheus and Eurydice—and had previously listened to "Wait for Me" and "Wait for Me (Reprise)" on repeat. But I hadn't listened to the cast recording in full, because I'm one of those people who prefers not having heard the cast recordings before seeing the show. I make exceptions in some cases, but Hadestown was not one of those shows. I also hadn't done much research into how the production is set up or how the narrative is presented, and I'm glad that was the case, because it allowed me to go in with essentially a clean slate.
Hadestown is like nothing I've ever seen before, and I mean that in a good way. It's musical style, drawing folk and New Orleans jazz vibes, is different than any other musicals I'm familiar with, and I thoroughly enjoyed it. After the show, I didn't think it'd be a cast recording I'd be listening to in its entirety but rather a select few songs that stand out. However, I found myself listening to the whole cast recording and enjoying other songs more than I initially did.
The production doesn't feature a curtain, which was interesting. I don't know why that is, but I feel it added to this concept of audience acknowledgement. The theatre-goers feel like part of the show while still being separate from the show, which was cool. The story is presented in a way that is an actual narrative being told by Hermes, who's played by Andre De Shields, and I found that incredibly intriguing.
Most of the show, though, I just found myself thinking, "Wow, Eva (Noblezada) is SO GOOD." I had first seen Eva perform in Miss Saigon, but I wasn't able to truly appreciate her talent then. It was my first time in New York and my first Broadway show, and taking in that complex narrative was a lot to take in. I was impressed by and liked the performances I saw, but I didn't realize the greatness I was seeing from Eva. That said, when I was watching her as Eurydice, I was in awe of her talent and being in the direct presence of it.
Overall, it was a great show that I'm very glad I saw. However, I think the hype surrounding it made me expect I would've ended up liking it more than I did. But that's okay.
After the show, Amanda and I stage-doored, and it was pretty cold due to the wind. But, being from Chicago, we had no problem braving the cold, standing outside for an extended period of time so we could meet, get autographs from, get pictures with, and—most importantly—thank and compliment the performers.
---
West Side Story – Broadway Theatre
December 11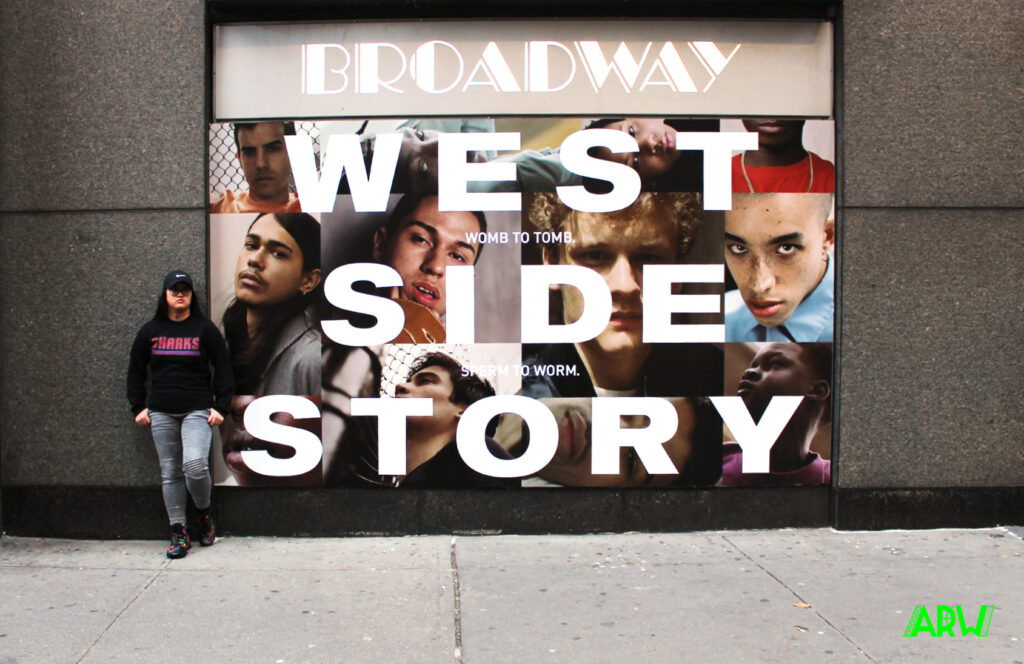 I know I already said this and in the aforementioned section, but the Broadway revival of West Side Story is like nothing I've ever seen before. It is SO different, which I'm sure many musical fans know. The show is contemporary in that it utilizes a video screen to assist in the storytelling. I also saw the second preview of this, so this show will likely change somewhat before it officially opens.
The style of the musical itself is modern, innovative, raw, and edgy in a way that's a rather stark contrast to the original production and the movie. It also takes place in the present day instead of the 1950s. The characters don't seem as innocent, juvenile, naive, and childish as I feel they seem in the movie and original take of the musical. The gang members, sporting several tattoos each, instead seem plagued by stupidity and stubbornness and a dedication to a tough, dominant image. You still get the sense that the characters are teenagers but without the youth and naivety. They seem like teenagers who know what they're doing and are too stubborn to consider anything else, which I thought was fitting for this contemporary piece.
I was also fascinated by the use of technology. I know the inclusion of video is one reason this production has caused a stir, but it's innovative and something I believe will eventually be commonplace in theatre.
Essentially, there's no set. The screen does open up to show certain settings, like Doc's and the dress shop. Those sets within the screen are rather intricate, but the stage is bare otherwise. You also cannot see those entire sets, so scenes that occur in there are projected onto the screen.
The musical features a complementary use of live action and video though not always successfully. The video provides a new sense of intimacy—like with closeups of some performers' faces. The video also features settings, like streets, and off-stage or unaccessible scenes. The video is sometimes distracting, though. I didn't always know whether to look at the screen or stage, because there'd be too much going on for both, so the show needs some work there. The live video footage used is made possible by having a person onstage with a camera. It was a little weird but not distracting.
This production is also the first time West Side Story is on Broadway featuring choreography other than that of Jerome Robbins's original work. I absolutely LOVE and ADORE the original choreography, but I went in with an open mind, not minding it'd feature different dancing. The new choreography is clean, technical, and well-done, so it only needs minimal work. It's very fitting of the edgy style of this production.
In the second half of the show, it's raining onstage THE ENTIRE TIME. I was amazed by that and want a write a feature story about how that works and is possible.
There is no intermission and is without "I Feel Pretty" and—a personal favorite—the "Somewhere" ballet. This was done to achieve a narrative that felt like a "race against time," which I thought was fulfilled. I didn't mind the cut song and ballet either. Yes, I missed the ballet, but it really wouldn't fit in this production, so it's okay it was removed. The choreography put in place of it supports the contemporary nature of the production and was performed well. The removal of "I Feel Pretty" cut time for the girl's in the show, though, and I did find I somewhat missed their perspective. However, "Dear Officer Krupke" felt INCREDIBLY out of place. Given the raw, edgy style of the show, this song came off as too playful and juvenile for these characters.
As a whole, I thought it was a beautiful, impactful show that left my heart racing, and I think that's because the narrative is intact and the score remains. Those two components are the most powerful elements of the show for me, so I still really enjoyed it. I especially loved Shereen Pimentel as Maria and Yesenia Ayala as Anita, and Isaac Powell was a terrific Tony. This production is not for everyone, though. You need to keep an open mind, especially if you are familiar with and enjoy the original concept of it.
Because it was only the second preview, there was no official stage-dooring, but that didn't stop anyone from waiting for their favorite performers. Amanda and I were one of the last people there, and we got to meet Ricky Ubeda, one of our favorite dancers and So You Think You Can Dance season 11 winner, and Jacob Guzman, a Newsies Broadway alumnus and fellow twin.
Most importantly, I need to say that I am DEFINITELY opposed to Amar Ramasar being the cast as Bernardo. I know many theatre fans are against/boycotting this show because of him and the sexual harassment he took part while at the New York City Ballet, that is fair. If you want to boycott the show, please do. If you do not want to see the show because of him, please do. However, I wanted to see this show to experience a new take on a favorite, give my support to other performers like some of my favorite dancers Ricky Ubeda, Jacob Guzman, Ben Cook, and Jarred Manista. Not to mention, this show features 32 Broadway debuts! I refuse to let him ruin this show for me. I do wish the production would recast the role, and I have signed the petition for it.