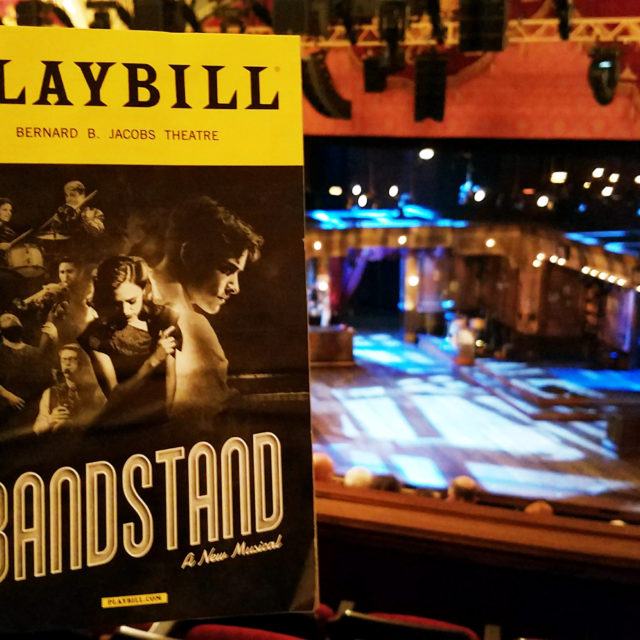 Musical Monday is a Monday blog post series where I choose a musical to highlight. I will discuss the show, my feelings about it, and my favorites from it. This post may contain spoilers.
About the Musical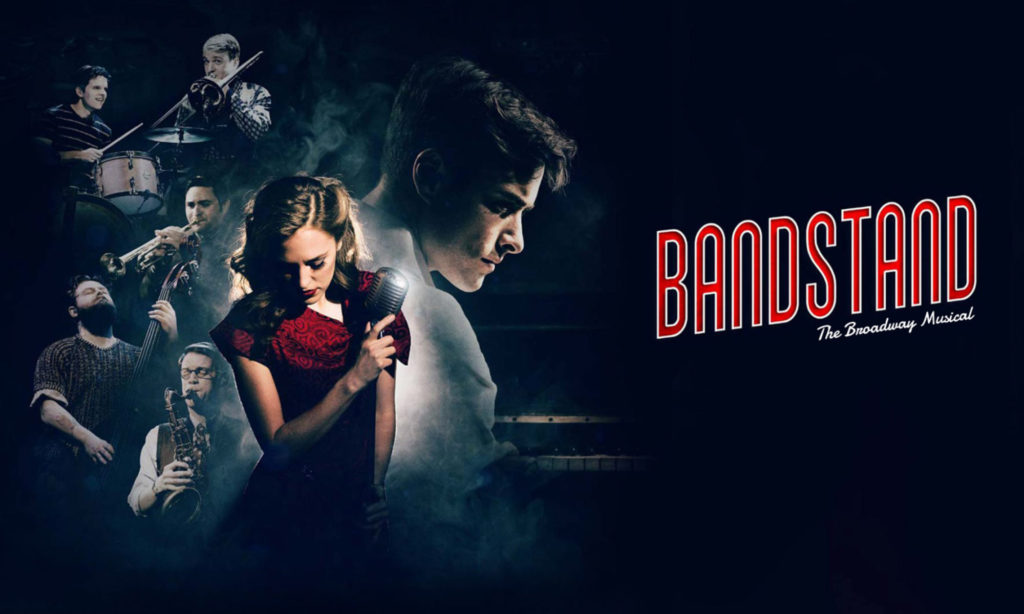 Bandstand is an American musical about World War II veterans who return home to Cleveland and form a swing band to win a national music competition. Singer/songwriter/pianist Donny Novitski takes initiative by starting the band and seeking fellow veterans to join him. He also gets Gold Star wife Julia Trojan, the widow of his Army best friend, to join the band. Together, the bandmates face the challenges of their post-war lives while finding out the healing power music can have.
Bandstand was composed by Richard Oberacker with a book and lyrics from him and Robert Taylor. Directed and choreographed by Hamilton choreographer, Andy Blankenbuehler, Bandstand premiered on October 8, 2015 at Paper Mill Playhouse in Millburn, New Jersey. It transferred to Broadway for the 2016-2017 season, officially opening on April 26, 2017 before closing on September 17, 2017.
The musical won the 2017 Tony Award for "Best Choreography and was nominated for "Best Orchestrations." Bandstand is also the first musical to be certified by Got Your 6, meaning it accurately portrays military veterans and their lives.
When I've Seen It
I have seen Bandstand three times in person and three times at the movies (the show was recorded live and theatrically released multiple times by Fathom Events), so it's obvious I enjoy this show.
I first saw the show live on July 29, 2017. I took my brother to see the show as a late birthday gift. At the time, I was living in New York for a summer internship, and my brother came to visit me. We wanted to see Ryan Kasprzak, an ensemble member, perform in the show, because we had seen him when he was on So You Think You Can Dance.
I was saddened when I heard the show would be closing, and I figured this would be my only chance to see it again (I was wrong, and I'm glad). So I decided to watch Bandstand a second time on August 20, 2017. I watched it by myself that time, and I even had my first (and so far only) Broadway stage door experience. My main stage door goal was to meet Corey Cott, the male lead, and get a picture with him, and I was ecstatic that it happened.
The third time I saw Bandstand was somewhat last minute. My mom was going to come to New York to help me move back home to Chicago, and my twin sister, Amanda, ended up coming as well. She had wanted to see the show, and it never helped that I'd never shut up about it. So I ended up taking her, our mom, and our aunt who lives in New York to see Bandstand on my last Friday night there.
Bandstand easily became my favorite musical, so I missed it dearly once I left Manhattan and especially once it closed. When it was announced that the live recording would be shown in select movie theaters, I jumped at the chance to watch it again, going three out of a possible four times because I'm obsessed.
What I Like About It
The easier thing would be to tell me what I dislike about the show, because I adore this show so much. Bandstand will always have a special place in my heart, because it's the show that sparked my interest in and made me love musical theatre.
From the book itself to the songs to the choreography to the lighting design, it's a musical that does a tremendous job of using multiple methods of storytelling. With a compelling plot, great music and songs, and genius choreography, Bandstand is everything you want from a musical. Plus, all the band members PLAY THE INSTRUMENTS THEMSELVES—as if acting, singing, and occasionally dancing wasn't enough for the main performers. Talk about talent.
However, the mental health aspect of Bandstand is one of the best parts of the show. It tackles numerous mental health concerns and the impact it has on military veterans, sending an important message.
This show is also how I was introduced to my Broadway favorite, Corey Cott (and also Laura Osnes and Geoff Packard and Joe Carroll and really everyone else in the company aside from Ryan Kasprzak). In fact, it was Corey's voice that initially drew me into the show. After hearing the show would close, I started listening to the cast recording to relive it. I'd hear Corey's voice and just be in awe of it. I would replay certain parts of the songs just to hear particular lines that Corey sings and swoon at the hearing of it.
Favorite Characters
Donny Novitski
The main character in the show, Donny is the World War II Army veteran and singer/songwriter/piano prodigy played by Corey Cott. He's an egotistical Polish and Italian American whose trauma from the war comes mostly from losing his best friend, Michael, during battle. Donny is so dedicated and isn't afraid to be authoritative. But he has his moments of vulnerability where, even though he's always going on about his greatness and talent, he has his doubts.
Julia Trojan
The female lead portrayed by Laura Osnes, Julia is a Gold Star wife and widow to Donny's best friend, Michael. She becomes the lead singer of the Donny Nova Band after being recruited by Donny, turning the group into "the Donny Nova Band featuring Julia Trojan." She loses herself a bit after losing her husband but rediscovers who she is with the help of her singing and songwriting, too. She writes poems that get turned into lyrics, going from this hesitant and apprehensive widow to a strong and brave woman who isn't afraid to put herself out there.
Wayne Wright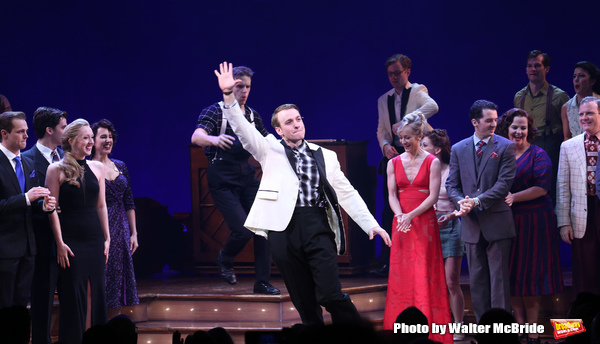 The band's trombonist, Wayne is a World War II Marine veteran who struggles with obsessive compulsive disorder. He has his own way and order about how things should be and happen, and this structure give him a sense of control–but not without consequences. His OCD prevents him from being his true self. He's a loving father and caring bandmate who wants the best for his family and friends, but he often struggles to be that person first because of his trauma, and this struggle is evident throughout the show.
Favorite Songs
"Right This Way" by Corey Cott, Laura Osnes, Geoff Packard, James Nathan Hopkins, Brandon Ellis, Joe Carroll, and Alex Bender
This is not only my favorite song from Bandstand, but it's also my all-time favorite show tune. The act one closer for the show, "Right This Way" is such an emotional, powerful song. It's probably the first moment in the show where the band truly bonds.
For the most part, they all get along, but they have their fair share of conflicting moments. "Right This Way" is when you see that these people have something to share and something to work toward together. They're not just people with shared experiences; they're a team. However, it can be tough to understand the song's full impact without knowing/having seen the show and the context of the song.
"Nobody" is the act two opener in the show, and it's such a strong, defiant anthem with a upbeat tempo, making for a great overall dance number. This is actually the song I use for my alarms for when I need to wake up at a certain time, because it's the perfect song to start the day with and be empowered by.
The Donny Nova Band has this newfound confidence and belief in themselves, and they're very empowered by it. They know what they want and how to make it happen, and they're not going to let anybody stop them.
In case the title was enough of a giveaway, "Donny Novitski" is a song about Donny Novitski sung none other than Donny Novitski. The second song in the show, it does a great job at characterizing and introducing Donny while showcasing Corey's voice. This fun, playful song captures Donny's ego, personality, confidence, and ambition and provides a thorough background on how he became who he is.
---
"Sing because you just need to sing." – Julia Trojan in Bandstand